Newsletters
Annie's Newsletter - Daylight LED Table Lamps
Hi there…well I have the bags packed and I am off to Palmerston North for a full on weekend with the Rose City Quilters for their "Tote and Gloat". If you are in the neighbourhood be sure to come and say hello and check out the exhibitions and the merchants for this once a year extravaganza.
This week's newsletter is a short one, as it is very early and I am sitting in the airport as I write this waiting to get on a tiny plane that I am not nervous about at all!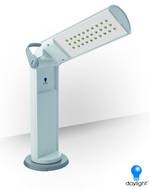 Following on from last week's theme we have a good deal on Daylight LED table lamps. These are very portable (but do need a power source) and are great to take with you to class or when you are on holiday. As quilters and embroiderers I am sure we all have scant regard for "mood lighting" when it comes to motels!
These lights are normally $159.00, but as a Mother's Day Special this week they are $135.00. Be in quick as I only have a limited number!
The little Yo-Yo battery operated LED light and magnifier that we featured last week was very popular and we have managed to get another shipment at the same special price.
We also have some neat little tins that arrived in – great for storing pins, needles, chocolates or emergency supplies. These are just $3.50 each
More fabric has arrived in this week including some really nice wools, more cotton prints from Yoko Saito and Di Ford. I am really excited about Di Ford (Primarily Quilts) new range that is due out in the next month or so called Bally Hall. It is has a good mix of feature and border prints together with great blenders to support the range. There is also a free pattern available
https://www.andoverfabrics.com/Grid.php?GroupName=Bally%20Hall&groupId=A-8521-E
I understand from our supplier that we are the only shop in New Zealand to order this range and they are bringing it in especially for us.
This week's recipe is a tasty fruit loaf that doesn't have any butter or dairy products. With limited ingredients, it is quick and easy to make.
Vicki's Easy Fruit Loaf
500g sultanas
100 g soft brown sugar
1 cup of cold tea
Soak these ingredients overnight.
Next day add:
1 beaten egg
225 g self raising flour
Mix well and put into one large or two small loaf tins and bake at 160 C for about ¾ hour.
Well…must tootle as I can almost hear the boarding call.
Take care and happy stitching