Newsletters
Annie's Newsletter - The Bernina Road Show is coming to Christchurch!
The Bernina Road Show is coming to Christchurch!
Put a circle around Tuesday 1 August from 3 pm at the Heartland Hotel Cotswold in Merrivale.
This is a great opportunity to check out the new embroidery software, hear about some fantastic deals on ex-symposium machines and have a go on Bernina's new Q series long arm quilting machine. There will also be spot prizes and the chance to win a new Bernina sewing machine.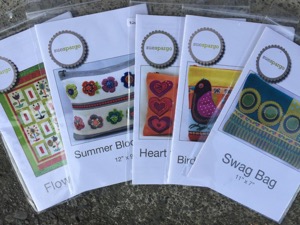 There have been lots of parcels arrive this week including these new patterns from Sue Spargo. These small zip pouches are quite achievable projects, and very handy for carrying your bits and pieces. Don't forget we have all the wools, threads, zips, needles, beads and braids you need for these projects too
We are almost into August and our National Quilt Symposium (5-10 October) is getting close (remarkably so when I think about the amount of work that I have to get through before then!).
This is the flag ship of the New Zealand quilting industry. Held every two years and largely organised by volunteers in conjunction with Bernina NZ, this year we are lucky to have it being hosted in Christchurch. It is not too late to register as there are lots of really good classes still on offer. But remember that you don't have to be registered to come and see us in the merchant mall and to cruise around the exhibitions.
https://www.quiltsymposium2017.org.nz/
If you are a whizz with your overlocker and want to have some fun repurposing some of your old jumpers, there are still a couple of places left in the RENU workshop with Diane Dynes next month (5-6 August). More details on the class page of the website.
Now, on to the recipe...this is a really yummy recipe for some muffins, great when you get sick of the regular chocolate or blueberry variety.
Pineapple and Coconut Muffins
200g flour
150g soft brown sugar
2 tsp baking powder
100ml oil
50g desiccated coconut
250g plain or coconut yoghurt
250g crushed pineapple
1 tablespoon milk
1 egg
cooking spray oil
Almonds to decorate
Preheat the oven to 170°C, and prepare the muffin tins.
Sift the flour and baking powder together in a large bowl and add in the coconut.
In a large bowl beat the egg and then add the brown sugar, oil, yoghurt and milk together.
Add the crushed pineapple and mix and then fold in the flour. Put the mixture into the muffin tins
and sprinkle with almonds before baking.
Bake for 20-25 minutes.
Poke a skewer into muffin and if it comes out clean then it is cooked.
Happy Stitching