FIELD JOURNAL CLUB Block of the Month
Thanks for expressing an interest in the new Block of the Month "Field Journal Club", that we are starting in March next year in conjunction with Cottage Garden Threads from Australia. I am really excited about this project which includes beautiful stitcheries, exclusive hand dyed threads from CGT and gorgeous fabrics from Liberty of London, which will enable you to put together a stunning queen size heirloom quilt at the end of the program. There will also be some bonus projects along the way.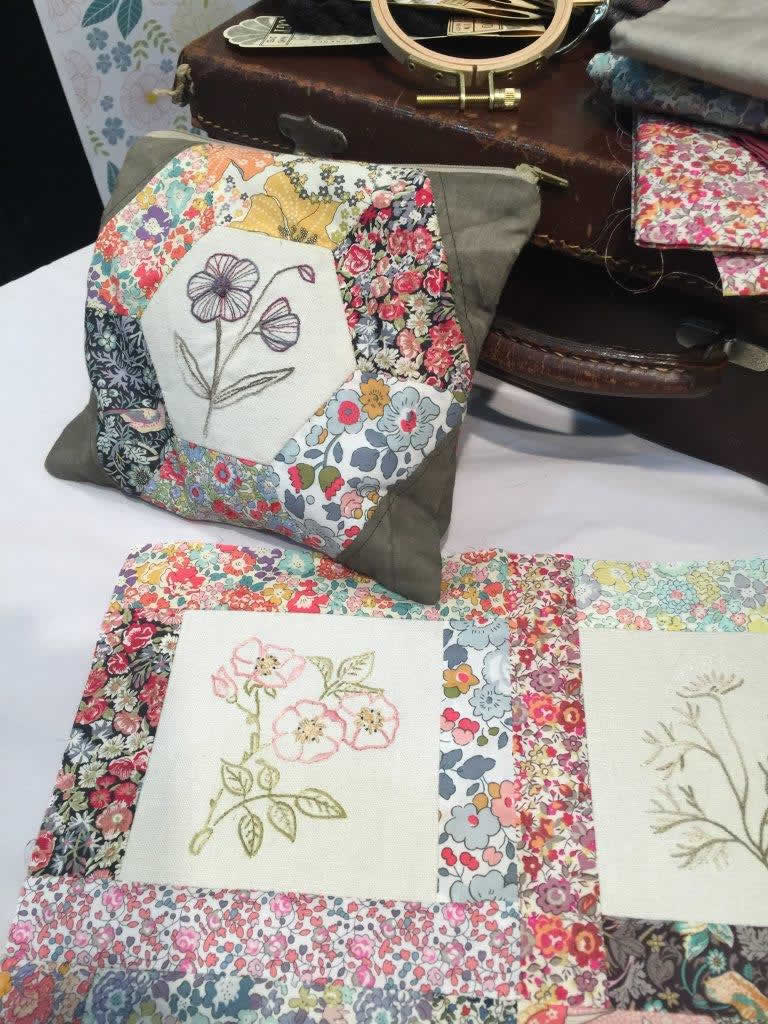 As Katie from Cottage Garden Threads explains below, the full program is $46.00 per month and is run over 36 months, broken down into three 12 month subscriptions. You will be committed to signing up for 12 months, and at the end of that time you can either opt out or continue with the program as you wish. The Field Journal Club Kit (optional) will be available for a one off cost of $159.00 in three colour ways and includes the fabric, patterns and instructions to cover your folder, the traveling zip pouch along with your hoop and exclusive set of 9 Field Journal threads.
A sign up form is attached to this email and you are welcome to either fax, post or drop this into the shop or contact us with your ccard details. Full postal address and post code, emails and phone numbers are required. If we are posting goods out to you payment must be either by credit or debit card. Postings will be sent out on the 20th of each month.
If you are happy to confirm your expression of interest, your place in the Field Journal Club will be secured with payment for your first bock ($46.00). We will also need to know if you would like to receive the Field Journal Kit ($159.00) and your colour preference.
This is a stunning project and I am looking forward to stitching along with you, and if there is enough interest perhaps setting aside time for a Field Journal Stitchers Club meeting at Annie's each month so that we can encourage each other along.
Rachel
---
Dear Kindred Stitcher,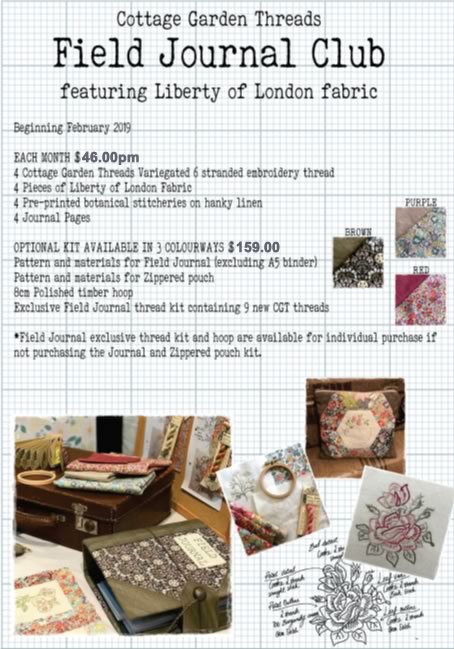 My name is Katie and I am so lucky to be surrounded by embroidery threads every day and Cottage Garden Threads nonetheless. Imagine if, just like me, you could have Cottage Garden Threads right at your fingertips for when inspiration strikes. Let me be your CGT fairy and show you exactly how I can make your wish come true and all the while, stitching beautiful botanical stitcheries and playing with Liberty of London fabric.
The CGT Field Journal quilt came to be from pondering how I was going to put 150 Cottage Garden Threads of all different colours together into one quilt. The first thing that popped into my mind was Liberty of London Fabric. I love working with Liberty and the way all different prints and colours come together to give that quintessentially Liberty feel. This would be the way I could bring 150 colours together.
I love the vintage appeal of liberty and one of my favourite past projects was using Liberty and vintage doilies. I collect vintage doilies and when I hold them in my hands I wonder who stitched them, when, what was happening in the world and what were they thinking? As stitchers, we stitch our thoughts into fabric, just like writing in a journal. If our stitches could speak they would tell of the highs and the lows that everyday life brings, the little things that when looked back upon become the big things, our worries and our joys. What if we were to record just a few of these things alongside our stitching? What story would our stitches have to share? Imagine how wonderful it would be to read the thoughts of stitchers past, in their handwriting and see what thoughts they stitched into their work. Things they would have considered the small, unnoteworthy things, like the date, what they were listening to or who they were chatting to. It gives me goosebumps.
I wanted to create a club using Cottage Garden Threads, Liberty of London fabric, vintage inspired stitcheries and journaling. This is how the Field Journal club was born. A field journal is a notebook used by artists, explorers and botanists to take notes and sketch their findings and observations from nature. They wouldn't leave home without it. Are you like me and never leave home without a little project to sneak in a few stitches in those quiet moments of life? A few stitches while waiting for a Dr's appointment, while catching up with a friend over a cup of tea or coffee at the café, in the car when having to fill in time between going from A. to B? Sometimes, these are the only moments in a day that I get to put thread to needle. They are small moments of mindfulness that are just for me and as they say "A stitch in time saves nine".
When you join the Field Journal club, each month you will receive: JOIN THE CLUB NOW!
4 Cottage Garden Threads variegated 6 stranded embroidery thread.
4 pre-printed botanical stitchery designs on hanky linen.
4 pieces of Liberty fabric.
4 journal pages with a stitch guide, colour photo and a section for journaling (Journal prompts will be provided in month 1)
Optional kit at the beginning of the club contains: BUY NOW !
Pattern and materials for the Field Journal (excludes A5 binder)
Pattern and materials for Zippered pouch that fits snuggly inside the Field Journal.
8cm polished timber hoop
Exclusive Field Journal thread kit containing 9 new CGT threads which are stitched throughout the club alongside the 150 signature range threads.
If you choose not to make the Field Journal and zippered pouch, the exclusive thread kit and timber hoop are available for individual purchase.
The entire duration of the Field Journal club is 37 months, broken down into 12 month subscriptions. At the end of 37 months, you will put together a queen sized quilt. Every 6 months, there will be a bonus project to complete such as a cushion, bag or sewing accessories. Each stitchery design does not use a full skein of thread so you will also have 150 threads in your collection. If you would like to opt out at the end of any 12 months, there will be enough materials to make a smaller quilt.
I can't wait to get started on this journey with you and see your Field Journal, quilt and projects come together.
Xx Katie