Classes
Regular Weekly Classes
Held on Tuesday evenings 7-9.30 pm, and Thursday mornings from 10-12.30 pm. Choose a project or bring along something that you are working on and we will help you to finish it. Beginners are welcome.
Cost: $8.50 per class
Tutor: Rachel Maw
Saturday Wool Class
This is a monthly get together for people who are hooked on (or would like to be) wool applique. Sue Spargo and Wendy Williams are two designers who have inspired up with their creativity and combinations of colours, textures, applique and embroidery techniques. Choose your own design or one from the many books and patterns we have in store, or bring along your 'Work in Progress' and enjoy the company of like minded stitchers.
Saturday: 10.00-4-00pm at Annie's CQS
Class Fee: $20.00
Dates:
25 February
18 March
22 April
27 May
17 June
15 July
19 August
16 September
21 October
18 November
16 December
Wednesday Morning Friendship Group
If you have an interest in handwork, be it patchwork, embroidery, knitting, crochet, cross stitch or whatever, you are welcome to come along. Tea and coffee are provided and it is an excellent way to meet new friends.
FREE!
Please email This email address is being protected from spambots. You need JavaScript enabled to view it. and do NOT reply to this newsletter.
Akaroa Quilters Retreat - 23-25 June, 2017
You are invited to attend an Akaroa quilters retreat from 23-25 June 2017. The cost of the weekend is $260 per person, which includes Friday night nibbles, two nights accommodation at the Akaroa Village Inn, gourmet lunches during the weekend from a local restaurant, morning and afternoon teas and venue hire at The Boat Shed.
This registration fee does not include the cost of transport to and from Akaroa, breakfast, dinner or supplies/kits for the projects on offer. A three course set menu dinner at a local restaurant has been arranged on the Saturday night at an approximate cost of $50.00.
Download Registration Form
Coneflower Foundation Piecing Class - Saturday 8 July
Tutor: Rachel Maw
Class Fee: $45.00
The aim of the class will be to gain an understanding on the techniques involved in Foundation Piecing while experimenting with different colour combinations to create several blocks that could be used for a large cushion, wall hanging, table runner or as part of a larger quilt.
A starter kit is available at a cost of $20.00 each which includes
1 m of pale green spot
1/8th of brown/green spot for the leaves
1/16th of aboriginal spot for the stems
.2 of the border fabric
Additional requirements: -
At least 18 different fabrics for the flowers that measure at least 4" x 7"
Add a quarter ruler (available from Annie's CQS)
Good quality thread
Rotary cutter and Cutting Board
Straight sewing foot for your machine
Sewing machine (cleaned, oiled and in good working order)
Spare sewing machine needles (Foundation papers will be supplied)
Diane Dynes from Winton - 5 - 6 August, 2017
In this workshop you will design and make your own orginal garments, all from prloved, mostly wool clothes. With Dianes previous experience, she will help you develop styles that will suit your size and shape and together will design
your unique one-off piece.

You will learn various ways to combine and manipulate fabrics. Your stylish garments will have no resemblance to the originals as they will have been totally cut up and redesigned.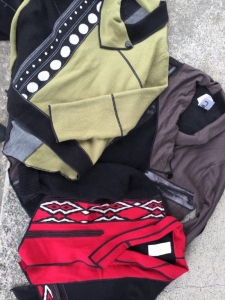 PRE WORKSHOP INFORMATION
For this workshop you may be able to get two garments made depending on your sewing experence. You need basic home sewing skills and know how to operate an overlocker.

Fabric/ clothing required to create your garments:

- any merino, lambswool, angora or possum jersey
- woollen coats, felted wool or boiled wool jackets and jerseys
- black dress denim trousers
- feature fabrics could be lace, jerseyknit and light weight mesh

All of these can be sourced from your wardrobe or op shop

What you will need:

fabric/clothing
sewing machine
overlocker
cottons scissors iron pins pencil

COST OF WORKSHOP $185.00 This includes 2 full days sewing normally over a weekend and two hours approx beforehand to do the styling and cutting.

You will have the opportunity prior to try on my garments to help you decide what your may like to make. Most people find it easy to collect the garments but have trouble with what to make, this is when being able to try the clothes really helps with this. I find most of the women attending my workshops have been sewers but have sometimes lost confidence in sewing for themselves, my previose experience helps me to assist them with styles and lenghts and shapes that suit.
"Spikes and Specks" - by Katrina Hadjimichael - Saturday - Sunday 14-15 October 2017

FINISHED QUILT SIZE IS 85" SQUARE

This quilt has foundation pieced circular "spikey" blocks separated by appliqué vine and leaf sashings.
Learn paper foundation piecing and machine appliqué skills.
Class Fee: $195.00 (includes pattern and class notes, morning and afternoon teas)
To reserve your place in the class and receive your full list of requirements, please email This email address is being protected from spambots. You need JavaScript enabled to view it. and do NOT reply to this newsletter.
Tuffet (footstool) Workshop – Saturday & Sunday 28 & 29 October 2017
This footstool which measures 18" across is foundation pieced in your choice of colours to create a beautiful and function piece of furniture to add to your home
Hardware kit (to complete one Tuffet): $185.00
This includes –
Pattern and pre-printed foundation
6" Covered button
Upholstery Cord
Wooden base
4 Turned and lacquered wood feet with nuts and bolts
Moulded foam base
Class fee: $130.00 for the two day class or $65.00 if you purchase all your fabric and supplies from Annie's Country Quilt Store
Tutor: Rachel Maw
Venue: Annie's Country Quilt Store
To reserve your place in the class and receive your full list of requirements, please email This email address is being protected from spambots. You need JavaScript enabled to view it. and do NOT reply to this newsletter.
---
All classes are held in the classroom behind the shop at Annie's Country Quilt Store. Class places are allocated on a first come first served basis and confirmed withpayment. Class fees are non refundable, however if you are unable to make it you are welcome to find someone else to fill your place.
If Annie's CQS cancels the class for any reason, a full refund will be made.
Happy stitching
Rachel
Annie's Country Quilt Store
167 Archibald Street
Ashburton (03) 3076 277