Classes
Regular Weekly Classes
Held on Tuesday evenings 7-9.30 pm, and Thursday mornings (fortnightly) from 10-12.30 pm with Tuesday nights kicking off on the 5th of February and Thursday morning will start on the 7th of February. Choose a project or bring along something that you are working on and we will help you to finish it. Beginners are welcome.
Cost: $8.50 per class
Tutor: Rachel Maw
Saturday Wool Class
This is a monthly get together for people who are hooked on (or would like to be) wool applique with our first wool class of the year on Saturday February 9th. Sue Spargo and Wendy Williams are two designers who have inspired up with their creativity and combinations of colours, textures, applique and embroidery techniques. Choose your own design or one from the many books and patterns we have in store, or bring along your 'Work in Progress' and enjoy the company of like minded stitchers.
Saturday: 10.00-4-00pm at Annie's CQS
Class Fee: $20.00
Tutor: Rachel Maw
Akaroa Quilters Retreat - 3-5 July 2020
'Bunnies' - with Griet Lombard - Saturday and Sunday 22-23 August 2020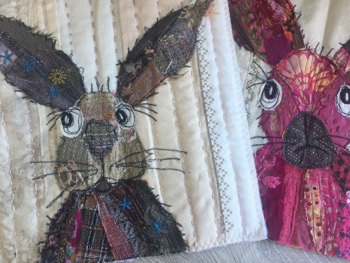 This two day class uses different textures, threads, laces, and fabrics with free motion machine embroidery, hand quilting and embellishment to create these little characters which are all quite unique.
They breed like rabbits, so at the end of the weekend you will have enough to make a small quilt or to mount them as pictures, put them on bags or cushions! Check out the Annie's Facebook page for more pictures.
Date: Saturday and Sunday 22-23 August 2020
Tutor: Griet Lombard
Venue: Annie's Country Quilt Store
Times: 9.30 am - 4.00 pm
Class Fee: $185.00 (two days)

Payment in full is required to secure your place in the class.
Clamshell Class - POSTPONED
Date: Postponed - new date to be advised
Time:
Venue: Annie's Country Quilt Store
Tutor: Rachel Maw
Class Fee: $125 (includes pattern book and acrylic templates by Deborah Louie).
Some preparation work prior to class is required.