Classes
Regular Weekly Classes
Held on Tuesday evenings 7-9.30 pm, and Thursday mornings (fortnightly) from 10-12.30 pm. Choose a project or bring along something that you are working on and we will help you to finish it. Beginners are welcome.
Cost: $8.50 per class
Tutor: Rachel Maw
Saturday Wool Class
This is a monthly get together for people who are hooked on (or would like to be) wool applique. Sue Spargo and Wendy Williams are two designers who have inspired up with their creativity and combinations of colours, textures, applique and embroidery techniques. Choose your own design or one from the many books and patterns we have in store, or bring along your 'Work in Progress' and enjoy the company of like minded stitchers.
Saturday: 10.00-4-00pm at Annie's CQS
Class Fee: $20.00
Tutor: Rachel Maw
Dates for Saturdays in 2018: (please check with us as these may be subject to change)
25 August
15 September
6 October
8 December
Tuffet Class - 8-9 September 2018
This is a fun class using foundation piecing techniques suitable for beginners to more advanced sewers. Everyone ends up with a finished tuffet at the end of the weekend, and a unique piece of furniture in the colours of your choice. Why not get a group of friends together and make it a weekend retreat in Ashburton?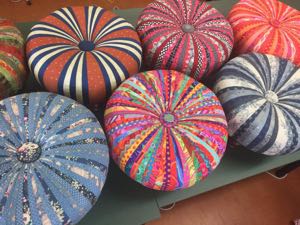 Class time: 9.30 am to 4.00 pm
Venue: Annie's Country Quilt Store
Class Fee: $65.00 if you purchase your fabric and supplies from Annie's or $130 if you choose to purchase it elsewhere.
Your hardware kit ($195.00) will include:
Foam
Pattern
Foundation
Button
Turned legs
Base Board and nuts and bolts,
nylon cord
Additional to this you will need your fabric and batting. (A full requirements list will be emailed to you.)
Griet Lombard Textile Artist - November 2018
Details to follow. You are welcome to register your interest.
https://www.anniesquilts.co.nz/cms/contact-us.html
https://www.facebook.com/pg/liedtjie/photos/?ref=page_internal