Newsletters
Annie's Newsletter - New Victorian Sewing Box Kit
Hi there, another week rolls around and daylight saving is nearly upon us, so don't forget to change your clocks this weekend. I am hoping that will also herald the start of some warmer more settled weather!
This week I thought I would show you this gorgeous sewing box that I have just finished putting together. This comes as a kit ($28.00) that includes the pre-cut cardboard shapes and instructions – you choose your favourite fabrics and trims and be prepared to get sticky fingers! This is a glue project rather than a sewing one, but it is not difficult to make as long as you follow the instructions step by step.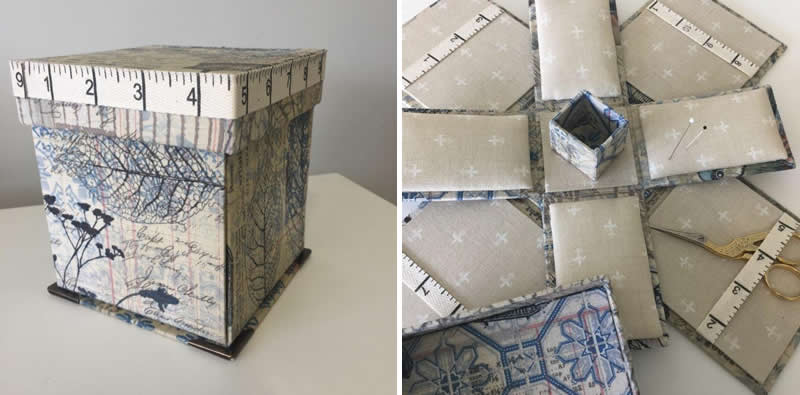 If you would like to use the same fabrics and trims that I have used in the sample, these are available as a kit for $24.00. I would also highly recommend using the bookbinding glue that is suggested for this project which is $18.50 (250 gram tub). This can be used for several projects. The metal corners are $4.50 for a packet of four.
Another shipment of beautiful Christmas stitchery patterns has arrived from Australia designer Marg Low, including her book "All Things Christmas" which is full of gorgeous stitcheries, gift ideas and small projects at just $29.00.
Also just arrived in is the latest edition of Quiltmania, a great coffee table magazine with lots of inspiration...even if you never make anything!
Well..that is about all for this week. It is back to the pile of trousers that need to be shortened! Why didn't I marry a tall man???
Onto the recipe...
Warm Barley and Roast Vegetable Salad
2 red onions
2 cups diced pumpkin, kumara and parsnip
2 cups of diced capiscums and courgettes
1 c pearl barley
3 cups stock
2 cups sliced spinach, silverbeet or rocket
½ c vinaigrette
Preheat the oven to 190C and bake the pumpkin, kumara and parsnip in a little oil for about 25 mins. Toss the capsicum and courgette in a little oil and bake until tender. While the vegetables are cooking rinse the barley and simmer in the stock until tender and most of the liquid is absorbed.
Toss everything together with the spinach and drizzle over the vinaigrette.
Happy stitching,
Rachel