Newsletters
Annie's Ramblings - accessory sale and Bernette specials!
Hi there, today is one of those beautiful sunny days in Mid Canterbury that makes you feel glad to be alive! The spring bulbs are flowering, the blossom on the fruit trees is full of promise and the bees are buzzing.
There are also lots of exciting things happening at Annie's as I am busy planning projects, classes, workshops and events for next year. Don't forget that 2019 will also see Auckland host the next Quilt Symposium. You can register on line at www.quiltsymposium2019.nz
In the shop it is all go on the machine side of things with 20% off all Bernina and Bernette machine accessories, feet, trolley bags, machine, overlock covers and much more! So make the most of this opportunity to stock up! We also have some good deals on Bernette sewing machines and overlockers too.
This week I thought I would show you this little project from Australian designer Kim Hurley. This pre-printed linen comes in several different designs which are taken from vintage postcards. They are two sided, with the postcard markings on the back, with space to embroidery or write your own message. They are $18.00 each and could be used as scented sachets, pincushions, made into a needle case or used for the top of a sewing box.
https://www.anniesquilts.co.nz/cms/shop-online/category/31-scented-sachets.html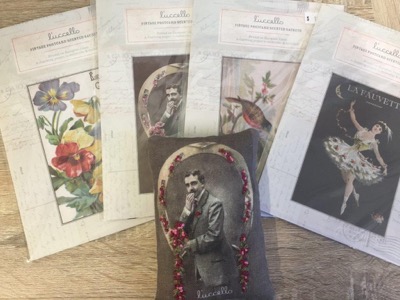 For my version, I embellished with French knots, stem stitch and a little bit of silk embroidery, but beads could work well too. I bought a really nice piece of handmade soap, wrapped it in dacron and used that as the filling – something pretty that also makes the room smell nice.
On to the recipe...you can't beat a nice piece of fruit loaf with a cup of tea.

Earl Grey Tea Loaf
500 g mixed dried fruit (raisins, mixed peel, chopped figs, apricots, raisins) or whatever you have in the pantry
Finely grated zest of a lemon
¾ c of strong Earl Grey tea
¾ c lightly packed brown sugar
1 c flour
1 lightly beaten egg
¾ tsp baking powder
2 tsp mixed spice
Place the dried fruit, zest and hot tea in a large bowl, and cover with plastic wrap and leave overnight.
Preheat the oven to 160 C. Grease and line a medium size loaf tin.
Mix the sugar and egg into the fruit mixture. Sift in the dry ingredients and mix until just combined. Turn the mixture into the tin and smooth off the top. Bake for 1 ½ hours. (Also freezes well.)
Happy stitching,
Rachel