Newsletters
Annies Newsletter - the "Bug" is back!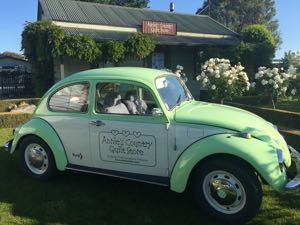 Hi there.....well, at long last the "Bug" is back! In case you had missed my little yellow Volkswagon outside the shop, she has been away being restored, repainted, and rebuilt from the chassis up. You can check out the rest of the pictures on the Annie's Facebook page.
Just arrived in.....a great selection of patterns from Australian designer Wendy Williams, the latest issues of Quiltmania and Simply Vintage, some more of the very popular Simply Christmas books from another Australian designer Marg Low.
One of my favourite new books is from Edyta Sitar called "Patches of Blue". This is $58.00 and just page and page of beautiful quilts that are saying "make me!" We have Edyta gorgeous range of blue and cream fabrics in the shop all ready to go!
This Friday is a holiday in Canterbury, but Annie's will be open every day, so it is a great time to visit. Don't forget th
at our regular monthly get together of woolly stitchers is this weekend and you are very welcome to join us. More details on the class page of the website.
Now onto the recipe...as we are coming into barbeque season I thought I would share this delicious salsa recipe with you that is great with homemade chicken kebabs.
Melon and Avocado Salsa
½ rock melon
1 avocado
2 Tbsp lemon juice
1 fresh chilli
¼ c fresh mint and corriander
Chop up the flesh of the rock melon, chilli and avocado and combine with the chopped herbs and lemon juice. Mix and refrigerate for about an hour before serving.
That's all from me, happy stitching!
R