2020 Block of the Month - The Santa, the Tree, the Turkey and Me by Anni Downs - Register Now!

Welcome to Annie's Country Quilt Store
My aim is to inspire people through my own love of patchwork, quilting and stitching and to create a shop that is warm, friendly and inviting. Annie's
Country Quilt Store is based in a 100 year old pioneer cottage on the Main South Road in Tinwald, on the outskirts of Ashburton, a small provincial farming town in New Zealand's South Island.
The cottage lends itself well to the country theme and my love of antiques and collectibles which feature in the shop alongside an excellent range of patchwork fabrics, DMC cotton stitcheries, gifts and patterns sourced from all over the world.
I want my customers to feel welcome to browse, comfortable about asking for help or advice and happy with their purchasing decisions. I also want them to come back and bring their friends!
In Our Latest Newsletter

Hi there. Spring has sprung and we are another week closer to some warmer weather and the beginning of daylight saving this weekend (September 27). It is great to see the gardens full of life with daffodils, kowhai, tulips and trilliums adding a burst of colour. In fact I think the weeds are growing as you look at them! It has also been good to see that so many of you have been really busy over the lockdown with lots of amazing projects being finished off, and plenty of new ones started. I am working on another large quilt...I love scrap quilts, it is sort of like quilting for free when you use the left overs! There are only 6,537 or so pieces in the one I am working on, but more on that later....... Read More

To sign up for our newsletter click here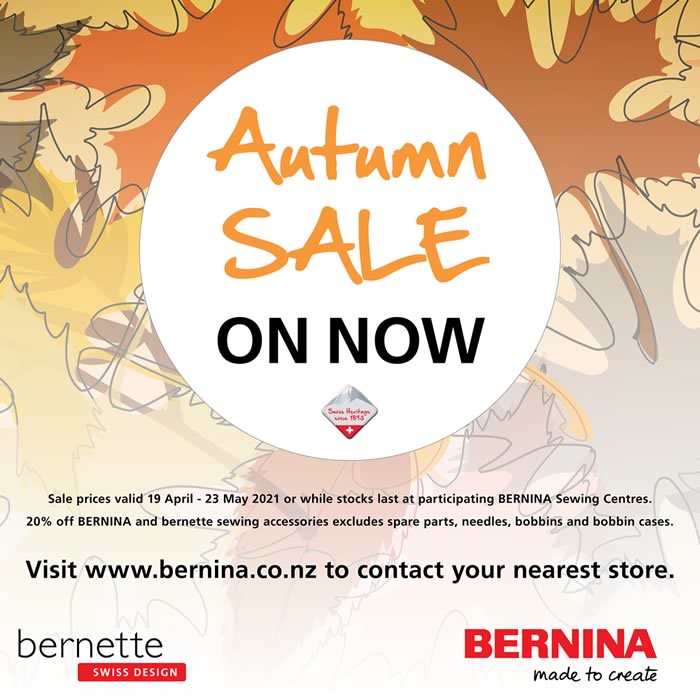 New BOM for 2021 - Forever More by Pam Buda and Marcus Fabrics -
Price and start date to be confirmed
I am currently working on the sample for a new Block of the Month for next year called "Forever More" by Pam Buda for Marcus Fabrics. This 12 month project is all machine piecing with really good instructions resulting in a gorgeous quilt (80" x 80"). I don't have a price or a final shipping date yet, but I will only have a limited number of kits, so if you are keen to register your interest let me know.