Newsletters
Annie's Ramblings 6 November, 2014
Hi there! What a whirlwind couple of weeks it has been with lots of travelling with quilt shows I attended as a merchant for both Golden Bay Quilters and Crafty Christchurch. These were both great events, and I take my hat off to the ladies who put in hundreds of hours to make these things happen. It is always good when they are well supported. If you missed out, make sure you look out for dates for next year! (I will keep you posted).
In the past few days it has been all about playing 'catch up' with lots of new stock arriving, reps to see and ordering to be done, and lots of new names to be added to the email list, (welcome aboard!), not to mention to projects to finish and the quilts to make, before I take off to Quilt Market in Melbourne in a couple of weeks time. (Eeeek...I am scaring myself now!!)
Anyway...moving right along. If you are thinking that a few additions to the summer wardrobe might be on the agenda (however I have to confess to wearing several layers a scarf and woolly socks as I write this), we have had some great skirt patterns arrive in as well as one for a very cool vest from Indigo Junction. Sometimes I think we get stuck thinking that 'patchwork fabrics' are just for quilts, but they are also great quality and will wash and well when used for clothing as well as looking fabulous. The best thing is that there is no wastage as any scrap pieces go into the 'stash'.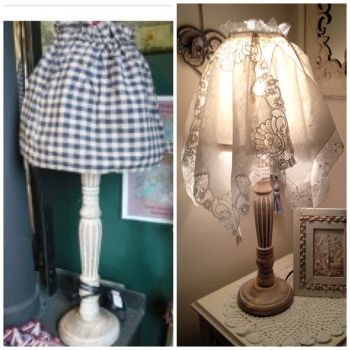 A couple of weeks ago I was telling you about some great new lamps that I received in at a great price from the suppliers and we were able to get a couple more (be in quick!), but I thought I would show you these wonderful before and after pictures from Lyn Manning after she gave her new lamp 'the treatment'. Well done Lyn!
If you have a couple of minutes to spare you should also check out this truly incredible quilt which won the viewer's choice at Quilt Festival in Houston 2014.
http://www.thequiltshow.com/os/blog.php/blog_id/6995?utm_source=Infusionsoft&utm_medium=email&utm_campaign=2014_11_04_Newsletter_3
In case you need more inspiration (a large cup of coffee is required) take some time out to drool over the rest of the winning quilts. Stunning work that photographs just do not do justice to.
http://www.quilts.org/winners.html
Last but not least, the winner of the Annie's $50.00 voucher from last month was Cheryl Radford from Christchurch.
Also this week, don't forget to call and see us if you are having a day out at the Geraldine Summer Fete on this Thursday.
http://www.geraldinesummerfete.co.nz/
This Saturday (8th) is also the date for the Hororata Highland Games - guaranteed fun with a Scottish flavour!
www.hororatahighlandgames.org.nz
This week's recipe is a very tasty soup which you can adjust to taste or to suit the vegetables that you have on hand.
Chorizo, Pearl Barley and Vegetable Soup
3 tbsp olive oil
1 large sliced onion
1 large leek, sliced
2 carrots, diced
2 cloved of crushed garlic
1 tbsp chopped rosemary or thyme
2 tsp smoked paprika
2 tsp ground cumin
1 tsp caraway seeds
2 chorizo sausages, sliced on the diagonal
1 c pearl barley
6 c chicken stock
1 bay leaf
2 c thinly sliced cabbage
6 large silver beet leaves chopped
Heat the oil in a large saucepan and cook the onion, leeks, carrots, herbs and salt until the vegetables are tender. Add the spices and sausage and cook a further 2 mins.
Add the barley, stock and bay leaf . Bring to the boil and then simmer until the barley is tender. Add the cabbage and silver beet and simmer a further five minutes. Serve topped with grated parmesan, and some crusty bread on the side. Yum!
Take care and happy stitching.
Rachel