Newsletters
Annie's Ramblings 23 July, 2014
Good morning from AshVegas! Today is a very exciting day as my new car is arriving. Well, when I say 'new' it is probably better described as a
'classic' which will be new to me. I will put some pictures on the Annie's Facebook page as soon as it is delivered. The only clues being, that it is very cute, there aren't too many others like it, and it is not a VW – stay tuned!
Over the weekend I was busily making up kit for the Natalie Bird workshop that we have coming up on the 20-21 September. This is the picture of my sample of the pincushion project. It is quite gorgeous, useful and combines a number of different techniques in the construction including English paper piecing, wool applique and embroidery. It will be a great class and a great opportunity to learn from a very talented designer who has not visited New Zealand before.
There are a couple of places still left in the class so let me know if you would like to register. The price is $195.00 for the two day class and this will include your pattern, tuition, morning and afternoon teas as well as free entry to the Friday night Trunk Show (a show and tell of Natalie's quilts as well as a few other surprises!) The Trunk Show will be a fun night and open to everyone, no matter whether you are attending the class or not, so mark this on your calendar now (more details to come).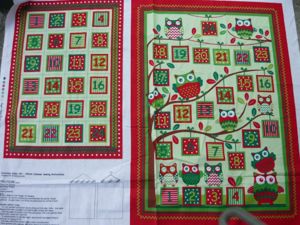 Now, onto the 'new in this week' department. Just arrived are some wonderful new Kokka fabrics from Echino including fabulous cotton linen as well as cotton sateen prints, more supplies of the very popular preprinted sashiko panels, and this delightful new Christmas Happy Owl advent calendar which is inclined to make you smile just looking at it! ($23.50 per panel including full instructions on how to make it up).
Well, that is all from me this week apart from the recipe which is a real treat if you have friends who are dairy, gluten intolerant, or vegan. However don't be put off by those labels as it is quite delicious for those of us who can eat anything!
Dairy Free Avocado Fudge
1 ripe avocado
½ cup of Olivani spread
1 tsp vanilla essence
1 c cocoa
3 c icing sugar
½ of chopped walnuts
Line a small shallow dish with foil and set aside. In a medium sized saucepan melt the Olivani over a low heat. Once melted, puree with the avocado in the food processor or blender until very smooth.
Return the mixture to the saucepan over a very low heat and add the rest of the ingredients, except the walnuts. Add the icing sugar a portion at a time.
Once all the sugar has been added the mixture should be quite thick. Add the walnuts and transfer into the prepared dish. Top with extra walnuts if desired.
Refrigerate overnight or for at least four hours, and keep it stored in the fridge.
(I actually halved the recipe and it made plenty!)
That's all from me this week, I am off to clean out my VW and make a space in the garage for the new car. Let me know if you hear of anyone wanting to buy my Beetle.
Happy stitching.
Rachel
Annie's CQS