Newsletters
Annie's Ramblings 3 December, 2014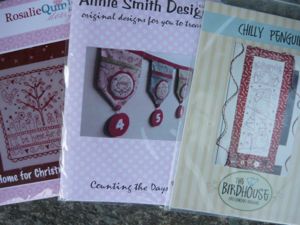 Hi there. Today is a great day to be alive! A busy time of the year, but lots of plans to be made and things to do. It is all about marshaling the ducks into rows, and ticking off the things in the diary. The Christmas cake may just have to wait another week yet, but I figure it will still happen, and if all else fails, a New Year's cake is just fine too!
We have had a number of new Christmas patterns arrive in (don't worry, they don't all have to be finished for this year either), lots more fabric with some of the new French General Rue Indienne having arrived in as well as more peppered cottons and some lovely prints from Sue Daley. After a bit of a drought of charms squares we now have a really good selection with some more arrivals from Moda.
If you are thinking that the wardrobe is looking a little sparse for summer, here are another couple of really nice patterns in mult-sizes that may just fit the bill. These would look great using some of the cotton sateen from Echino or perhaps some of the new fabric from Anna Maria Horner.
As school holidays are approaching rapidly, take a look at this site if you need some ideas to keep the kids entertained.
http://mumsgrapevine.com.au/2011/12/25-fabulous-christmas-crafts/

Don't forget that it is time to start dropping hints to friends and family about the gift voucher from Annie's that you would like for Christmas. Or you are welcome to give us your shopping list and just send the man in with his credit it card to collect it, or get him to push the 'send button' on the website! In my experience men generally hate gift buying, and we are more than happy to help if we can.
Well, I am going to leave you to it for now, as I have a quilt to build this afternoon before our class dinner.
This week's recipe is a little taste of summer in a glass.
Strawberry Fizz
1 punnet of strawberries, hulled and halved
Juice of 1 lemon
1-2 tablespoons of caster sugar
Ice
4 x 330ml bottles of soda water
Extra strawberries to garnish.
Place the strawberries, sugar and lemon juice in a blender or food processor and whizz until smooth.
Strain through a sieve if you wish, and then devide between four glasses.
Add a handful of ice to each glass and top up with soda water. Garnish with extra strawberry halves and a sprig of mint.
(For particularly stressful days, a shot of vodka could be a good addition!)

Oh before I forget, the winner of this month's draw is Sharyn Waretini from Christchurch. Well done Sharyn!
Take care and happy stitching
Rachel
Annie's CQS