Newsletters
Annie's Ramblings 10 December, 2014
Hi there…..another week into December and the pre-Christmas craziness continues.  I am sure it would all be a little bit easier to deal with if it just felt like summer!
This week I thought I would introduce you to 'Bruce' this gorgeous carry all basket from Ric Rac Designs.  Don't ask me why it is called Bruce, but it is easy to make using two fat quarters plus extra for binding.  I have put it together as a kit in including the covered button, interfacing and pelon as well as the fabric in either of these two colours choices.  The kit is $56.00 or the pattern is $24.00.  I believe it is a pattern that you could make again and again, as it would make a great gift stuffed with a couple of balls of wool and some knitting needles, stitching or some baking, or perhaps some baby toiletries  for a new mum.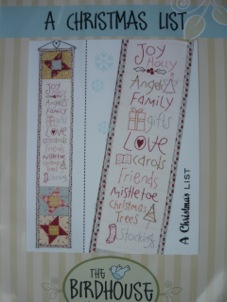 Another project that could tempt you over Christmas is this quirky little wall hanging from The Bird House called "A Christmas List.  The finished size is 3" x 20" and it is available as a pattern for $22.50.
Now…on to the recipe and this week it is a sweet treat perfect for serving with a tea or coffee as an ideal way to finish off a meal.  It is also gluten free.  You could also make mini versions and wrap them in cellophane to make a delicious gift.
Panforte
250 g oven roasted mixed nuts
1/3 cup each of: glace mixed peel, figs and apricots all roughly chopped
75 g of 70% dark chocolate roughly chopped
1/3 c rice flour
1 tbsp cocoa
1 tsp cinnamon
½ tsp mixed spice
½ c honey
½ c caster sugar
2 tbsp butter
Icing sugar for dusting
Preheat the oven to 160C and line a 20 cm tin with baking paper, greasing the sides of the tin with butter.
Place the nuts and dried fruit into a large mixing bowl.  Sift in the dry ingredients until combined.
Place the honey, sugar and butter in a small saucepan and stir over a medium heat until the sugar is dissolved. When the mixture is bubbling, pour it over the nut and flour mixture and stir until combined.
Place the mixture in the tin and press it down with wet hands to flatten the surface.  Bake for 30 mins or until the mixture is just bubbling in the centre.  Leave to cool and then remove from the tin and dust with icing sugar.
That is all from me this week, take care and happy stitching
Rachel
Annie's CQS