Newsletters
Annie's Ramblings 7 January, 2015
Well Hello there, and Happy New Year!  It seems we are already racing through January and the kids will be back to school before we know it and we will be all geared up for another full on year.
I have been very busy making preparations for next week's National Quilt Symposium in Palmerston North and I will have lots of new kits and projects on show in the merchant mall.  I am looking forward to meeting up again with some of my North Island customers as well as soaking up the inspiration and creative vibes from the many exhibitions and displays.
The newsletter will take a break next week as we will be on the road, but my New Year's resolution is to be better at keeping up with Annie's Facebook page so keep a look out for the updates.
I mentioned before Christmas that we are very lucky to have Australian designer Karen Styles coming to teach a workshop for us in March(14-15), and I was very excited to unpack a couple of her stunning sample quilts yesterday which you can now see in the shop.  The photographs really don't do them justice.  Karen is teaching just two classes as part of her NZ visit – at Annie's and Patchwork Passion in Auckland.  Whether you are a beginner or a more experienced quilter, there is always lots to learn and this is an amazing opportunity to take your patchwork skills to the next level.  So, reserve you place now!  (More details are on the website or you are welcome to give us a ring at the shop.)
Another exciting Australian designer who burst onto the scene with the launch of her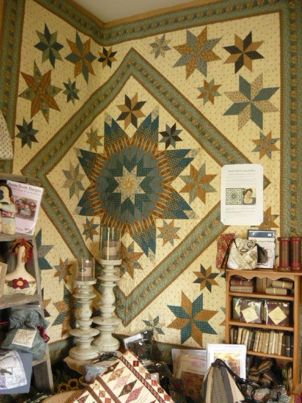 first fabric range at Quilt Market in Houston is Jen Kingwell.  The range is called Gardenvale and is fresh, funky and sort of retro.  The fabric won't be available until about May-June, however I am very lucky to have secured in advance (she says tapping the side of her nose),  some 5" charm square packs (available now), as well as some of Jen's stunning patterns.
You can check out the Gardenvale range on Moda's website, and let me know if you would like me to pre-order anything for you.  Apparently this was Moda's top selling range at Market.    Another one to look out for is the next range from French General called Bon Voyage.
Anyway, before I forget…the winner of the Annie's $50 voucher for December is Alice Jackson from Ashburton.
To be honest, there hasn't been much time for cooking lately, but here is a really good biscuit recipe that makes about 5 dozen!  (Some for the tin, some for the freezer and some to share!)  If you are not keen on almonds, you can tweak the nuts and flavours to suit.
Almond Sugar Biscuits
250 g softened butter
75g cream cheese, softened
1 egg yolk
1 c caster sugar
1 tsp vanilla bean paste or vanilla essence
Few drops of almond essence to taste
2 ¾ c flour
Almonds to decorate
Preheat the oven to 180 C.  Cream the butter and cream cheese.  Beat in the egg yolk and gradually add in the sugar beating well.  Add the essence.
Sift the flour and fold in the flour to form a soft dough.  Refrigerate for about 10 minutes and then place walnut size balls on the oven tray, pressing an almond into the top of each one.
The dough can also be formed into logs, wrapped in cling film and refrigerated for about an hour.  Then brush the outside of the log with egg white and roll in slivered almonds before cutting into rounds.
Bake for about 10-12 mins or until the biscuits are just starting to brown around the edges.
Dust with icing sugar if desired, make a cuppa and flick through your favourite quilt magazine.
That's it from me this week, happy stitching!
Rachel
Annie's CQS