Newsletters
Annie's Ramblings 29 January, 2015
Hi there! Well we are almost at the end of another busy week and the end of the summer holidays for many students and teachers alike. It seems no time at all since we were all wishing each other Merry Christmas.
This week we are well and truly back into the swing of things and I have some very exciting news! Annie's Country Quilt Store, is pleased to be able to offer you the Quiltmania Mystery Block of the Month (BOM) for 2015 "Colmar" designed by fabulous and very talented French designer Nathalie Menace of La Fee Pirouette.
As the only official New Zealand distributor for the BOM we are able to provide you with the exact fabrics and threads used in this six part project. This includes several limited edition fabrics being printed in Europe specifically for this project including some gorgeous shot cottons. Because this is limited to a specific number of kits offering these exact fabrics I would encourage you to register now to secure your place.
The cost will be $74.00 (plus postage) for each of the six months, and I anticipate the first mail out will be March-April. If you love applique, beautiful stitchery and the opportunity to create a real heirloom quilt with step by step instructions– this is one not to be missed. For more details please follow the link to our BOM section of the website.
CLICK HERE to view our BOM page.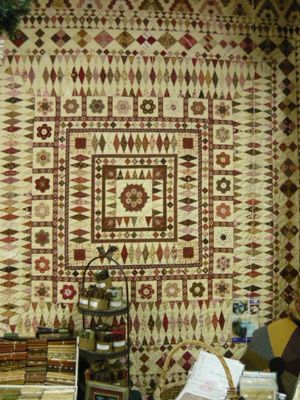 Another truly stunning quilt that definitely falls into the heirloom category is "Mrs Billings Coverlet" by Australian designer Karen Styles, which we are very lucky to have on display in the shop at the moment on loan from Karen's mother. This hand pieced beauty is available as a pattern and full set of templates for $195.00.
If like me you have developed a passion for reproduction fabrics and traditional hand or machine piecing, make sure that you don't miss out on Karen's workshop here in Ashburton (Saturday/Sunday 14-15 March). There are still a few places left in the class which is all about using some beautiful fabrics or bringing your treasured scrap fabrics and learning the techniques involved in using templates, precision piecing, and fussy cutting fabrics to create fabulous secondary patterns in the design. This is an amazing opportunity to learn from a world class designer and teacher, and represents extremely good value at $220.00 for a two day workshop as this includes your pattern and template set valued at more than $70.00. The workshop is based on the Hamilton Quilt which is pictured on the class page of the Annie's website, and you will have the option of making the whole quilt if you wish or concentrating on the techniques involved in mastering the star blocks and the quilt centre.
Speaking of things not to be missed, the next Mini Symposium which is held in the South Island (alternate years to the National Symposium) is being hosted by Marlborough Quilters in Blenheim 14-18 July 2016 and is sure to be a really great event. You can register now at www.sewmarlborough.com
Before I dash off the recipe this week is an energy packed snack for the lunch box (or anytime) and is gluten free.
Peanut Butter Cookies
2 cups crunchy peanut butter
2 cups caster sugar
2 eggs lightly beaten
Pre-heat the oven to 180 C and lightly grease a couple of baking trays.
In a bowl work together all the ingredients. Place spoonfuls of the mixture on the trays and press down with a fork.
Bake for 15 mins or until golden.
Makes 30.
Well, that is all from me this week, take care and keep stitching, and don't forget that our regular weekly classes start again next week.
Rachel
Annie's CQS