Newsletters
Annie's Ramblings 5 February, 2015
Hello again from a very warm, wild and windy day in Mid Canterbury and with everything so dry the firemen as well as the farmers are getting jumpy - as they are in other parts of the country after what has been an amazing summer so far.
Despite the fact that we are trying to get mentally prepared for the dreaded stock take that is merely weeks away (shudder) there still seem to be lots of parcels arriving at the back door including beautiful fabrics from Moda, wools from Marcus Brothers, fabulous books from Quiltmania and loads more patterns from our US and Australian suppliers.
These are just a few fabrics that have arrived from Laundry Basket Quilts (Moda). They are simply stunning, with a great mix of small prints, florals and batiks that all co-ordinate beautifully. I met Edyta Sitar the last time I was in the US and she is a truly delightly and very talented lady. We have her new book "Handfuls of Scraps" in stock now too ($65.00) and you can check out some of her work at the address below.
Check out Edyta Sitar's work ....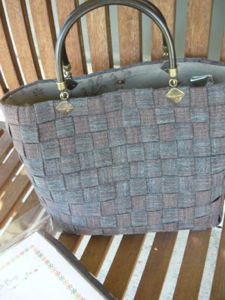 It is all very inspirational and if I could just divorce myself from the paper work and the computer for long enough to sew something I would be in 7th heaven!
Prior to Symposium my sewing machine was running hot, so I still have a few projects that you won't have seen on the newsletter. This classy little bag made using Japanese Taupe fabrics is one of these. It features a woven construction with the fabric wrapped onto an iron-on tape, before being lined and finished off with clip on handles. Everything you need is included in the kit which is $128.00.
Well…moving on, this week's recipe is a really delicious and easy no-yeast bread that keeps well and is delicious toasted as well.
Easy Onion Bread
3 cups of self raising flour
1 pkt dried onion soup mix
2 cups plain natural yoghurt
1 tbsp milk to brush the top
Grease a large loaf tin and heat the oven to 180C. Mix the flour and onion soup mix. Add the yoghurt and mix to a soft sticky dough (add some extra water or milk if needed).
Place in the loaf tin and brush with milk. Bake for about an hour or until a skewer comes out clean. Cool on a wire rack.
Before I forget the January winner for the $50.00 voucher from Annie's is Lucy Stephenson from Havelock North. Congratulations Lucy!
Well, that is all from me this week, take care and keep stitching!
Rachel
Annie's CQS