Newsletters
Annie's Ramblings 11 February, 2015
Hi there. Well I am happy to tell you that finally my ducks are getting into formation with regards to our long awaited visit from brilliant stitcher, wool applique expert, international author, tutor and friend Sue Spargo from the USA.
Sue is coming here to teach a series of workshops in Ashburton, Nelson, Taupo and Auckland at the invitation of Annie's Country Quilt Store and Patchwork Passion (Auckland) during August and September 2015, and I am happy to say that registrations for the classes are now open -although places are limited.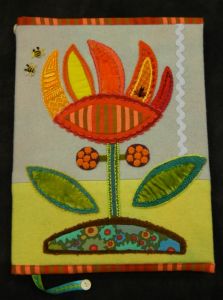 The Cone flower Journal Cover (which you could also make into a cushion cover, bag, quilt centre, needle case or whatever takes your fancy) will be the project for the one day class and this stunning peacock is the project for the two day class. This is a large piece with lots of detailing in the background which is about 50 cm square. More details of the class and kit prices are on the website.
We have lot of beautiful new magazines arrive in just lately including Simply Vintage, American Patchwork and Quilting, Down Under Quilts as well as a brand new quilting magazine from Burda, we have already sold out of the most recent issues of Quiltmania that we had, however we are putting an increasing number of magazines on back order for customers who want to be sure that they are not going to miss out.
We have also managed to get hold of some more issues of the very popular Children's Quilts Special Editions from Quiltmania which are packed with projects and good value at $25.00 each.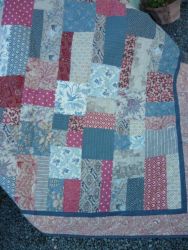 I don't know how they do it, but top Moda designers French General seem to be able to keep producing winning ranges time and time again, which all seem to work together beautifully as well. This week I thought I would show you one of my new quilts featuring these stunning fabrics, called "Sewn in Time". This quilt measures 66" x 82" and is available as a pattern ($22.50) or as a kit for $229.00.
While you are perusing the website, don't forget about the techniques class (either hand or machine) with Australian Karen Styles, who we are hosting at Annie's next month. There are still a couple of places left in this class which will be a great opportunity to brings your skills up to the next level when it comes to making colour choices, fussy cutting, using templates, precision piecing and much, much more.
We are also filling the last couple of spots for our annual retreat in Akaroa. This is the last weekend in June and a 'time out' with excellent food, accommodation, location, great company and some stitching thrown in for good measure!
Without further a-doo we are up to the recipe.
Crunchy Walnut and Apricot Cookies
I am a firm believer that anything with rolled in has got to be good for you (no matter how much butter and sugar is involved!) These biscuits are not only delicious, but you can play with the dried fruit and nut ingredients, or add some seeds to suit your tastes or what you can find in the panty.
200 g butter
1 c soft brown sugar
1 cup white sugar
1 egg
¼ milk
½ tsp baking soda
1 tsp vanilla
1 c flour
3 c rolled oats
½ c chopped walnuts
½ c chopped dried apricots

Preheat the oven to 180C. Melt the butter and then mix in the sugars and egg, milk, soda and vanilla. Add in the flour, oats, fruit and nuts and mix well.
Put teaspoons full on a greased oven slide and bake for 10-12 mins or until golden. Cool on an oven rack. Makes about 60. (They freeze well too).
Well, that is all from me this week, take care and keep stitching!
Rachel
Annie's CQS