Newsletters
Annie's Ramblings - Great savings on Bernina and Bernette
Hi there. It is lovely to be back home again after a fantastic trip to India. Three weeks on a textile tour of Rajasthan filled with amazing places, people, food, textiles of every colour you can think of, plenty of
Winter Garden - Griet Lombard 23-24 February 2019stitching, inspiration by the bucket full, and I was certainly in my happy place! Check out the pictures on the Annie's Facebook page.
https://www.facebook.com/Annies-Country-Quilt-Store-187848394748312/
Our tour guides Fiona and Praveen from Creative Stitching Safaris looked after us incredibly well and I would highly recommend them to anyone thinking about an adventure like this. It is not just for women - my husband Robbie was part of the tour group and reckons it is one of the best holiday's he has had as well!
http://www.creative-arts-safaris.com/
Now we are back home and playing catch up it seems like Christmas is going to sneak up on us incredibly fast!
We have some great savings on both Bernina and Bernette sewing machines and overlockers coming up next week, so if you are in the market for a new machine start dropping the hints and sending the letters to Santa now. (It might pay to let us know as well!)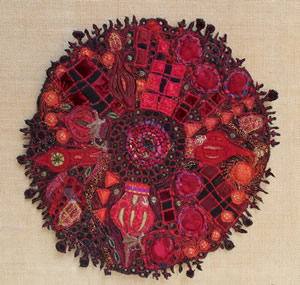 Holy Felt - Griet Lombard 22 February 2019I am also excited that well known North Island tutor (and all round delightful lady) Griet Lombard is coming to teach for us in February, and we now have the class samples in store. You can also check out these dates (22-24 Feb) on the class page of the website. These opportunities don't come along every day, so be sure that you don't miss out on the opportunity to have some fun and extend your skills. Bring a friend (or two) and make it a girl's weekend!)
Before I forget the winner of the $50.00 Annie's voucher for November is Sue Burrows from Nelson. Congratulations Sue your voucher is waiting for you.
Now, on to the recipe...perfect with any citrus.
Orange and Almond Loaf with Marmalade Syrup
2 oranges
3 eggs
250 g sugar
125 g flour
1 tsp baking powder
140 g ground almonds
Place the whole unpeeled oranges in a saucepan and cover with water. Simmer for an hour or until tender. Drain, puree and cool.
Heat the over to 175C and prepare a large loaf tin.
Beat the eggs and sugar for about 10 mins and then fold in the dried ingredients and pureed orange.
Spoon into the tin and bake for about 40 mins or until a skewer comes out clean.
To make the marmalade syrup combine ½ c marmalade with ½ c of orange juice and simmer for about 5 minutes until syrupy. Pour over the loaf.
Happy stitching,
Rachel