Newsletters
Annie's Ramblings - New French General Fabrics
Hi there. It is hard to believe we are racing through November and we have the fire going and the winter woollies back out of the draw...but don't the mountains look fantastic again with their blanket of snow! Rest assured we can do without any more hail or tornadoes, but you just have to marvel at the power of Mother Nature and her ability to throw us a curved ball now and again!
This week I thought I would show you this nifty little back pack that I have just finished making. It comes in a kit with all the fabric and hardware fixings, in two colourways. I do have to warn you that most of the instructions are in Japanese, but there are plenty of diagrams in the pattern and not too difficult to figure out. The kits are $99.00 and are available now.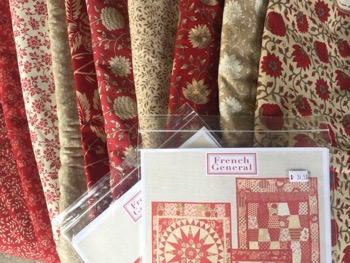 We also have another beautiful range in from French General called "La Vie en Rouge". In this collection they have gone back to the beautiful rich reds and creams that they are well known for. They have also released these gorgeous patterns ($34.50) which each contain three different quilt options to provide some extra inspiration. These would be stunning as small quilts or perhaps a centre medallion for a larger quilt?
We are off to Melbourne this weekend to catch up with our suppliers and designers in Australia as well as hearing all the news and the latest products from quilt market in Houston. Slightly warmer temperatures in Melbourne will also be welcome!
Anyway...on to the recipe. This week is a great Friday night tea or weekend lunch dish which always goes down a treat.
Spiced Souffled Baked Potatoes (Serves 2)
2 large potatoes
1 tbsp butter
1 large teaspoon Dijon Mustard
2 tsp Cajun spice
2 spring onions
1 mild green chilli or capsicum
100 g grated tasty cheese, plus some extra to sprinkle on top
1 lightly beaten egg
Salt and pepper
Bake the potatoes in the oven at 200C until tender. When cool cut then in half lengthways and spoon out the flesh. Place this in a bowl with the other ingredients lastly adding the egg and quickly mixing this through
Spoon the mixture back into the skins and sprinkle a little extra cheese on the top of each one. Place them on a baking dish and pop them back into the oven to cook for a further 15-20 minutes until golden.
.
PS: Don't forget that the Bernina Christmas Sale continues until 24 December with great savings on sewing machines and overlocker and 20% off accessories* (excludes spare parts, bobbins, needles and bobbin cases)
Happy stitching,
Rachel