Newsletters
Annie's Ramblings - New Block of the Month
Hi there. Well...what a treat it was to spend the weekend in Melbourne at the Australia Quilt Market! This is a wholesale show to showcase the latest fabrics and trends in the industry along with the best from the Australian designers following the International Quilt Market in Houston.
It was great to see so many amazing new fabrics, patterns, books and gadgets which will be released in the next few months and quite a number of parcels following me home in the coming weeks! This will include new braids from Sue Spargo, ric racs, kits from Lucello and some very beautiful Liberty fabrics and pre-cuts..whoohoo, I can't wait! ("Robbie when are we extending the shop????")
I am really excited about a new Block of the Month program that we will be offering called "Field Journal" from Katie Dawson of Cottage Garden threads.
This is based on the idea that in days gone by our early botanists and explorers would take notes and sketch their findings and observations from nature.
Katie has translated this into a stunning collections of botanical stitcheries, four of which you will receive each month along four special collection Cottage Garden threads and co-ordinating Liberty fabrics. Each month you will also receive another journal page containing stitchery guides, coloured picture, a prompted journal page and a piece of Liberty fabric. There will be also be extra small projects included along the way.
A starter pack for "Field Journal" will be available and include the kit to cover your folder, the kit for the zippered travelling pouch to keep your work in and your exclusive thread pack.
This is a beautiful project that you could work on yourself or get together with a group of friends, and I promise I will have more details and pricing very soon, but we are definitely taking expressions of interest now.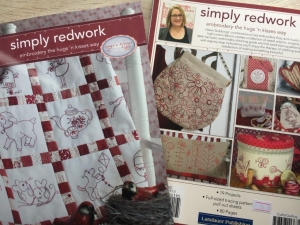 I also caught up with Helen Stubbings at the weekend and brought home some of her "Simply Redwork" books which are well priced at $39.95 and chock full of small stitching projects for cushions, bags, purses and presents for your special friends!
https://www.anniesquilts.co.nz/cms/shop-online/product/2089-simply-redwork.html
Now....on to the recipe - a delicious "take a plate" option or something different for the barbeque.
Spicy Chicken Bites
350 g minced chicken
2 tbsp Thai red curry paste
1 egg, beaten
2 tbsp cornflour
2 tbsp fresh coriander
2 kaffir lime leaves or the zest of two small limes
2 spring onions, finely chopped
1 red chili, finely chopped
Put all the ingredients in the food processor and mix until evenly blended. Add more egg if needed to bind. Roll the mixture into balls and fry in a shallow pan until browned and cooked through. Drain and then serve with salsa and salad.
Happy stitching,
Rachel