Newsletters
Annie's Ramblings - Merry Christmas!
Hi there...as the reindeer are already starting to rev up the sleigh this will be our last newsletter of the year! It has been a busy and exciting one with lots of projects, beautiful fabrics, wonderful customers and amazing staff...and for us a couple of pretty incredible trips overseas thrown into the mix. There is certainly nothing like travel to broaden the mind and keep the creative juices flowing!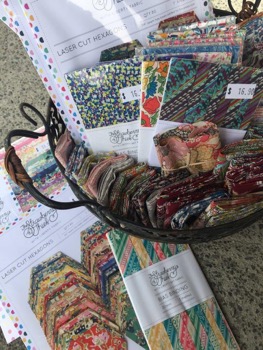 Speaking of beautiful fabric...some of the new Liberty Lawn fabrics have arrived in this week and we also have some packs of Liberty charm squares, hexagons and bias binding. As well as the fabrics we have on the bolt we also have hundreds of swatch samples which you can order from if you fancy the idea of a new selection of beautiful tops and shirts. The bonus being that nothing is wasted as you can use the scraps from dressmaking in lots of small projects and quilts and combine them with beautiful linens to great effect.
I know that many of you have purchased the mini irons from us, and the good news is that we still have a few left at the special price of $59.90 (RRP $76.00), but I thought I would also show you the mini iron caddy that I have just finished.
The pattern for the Iron Caddy Jnr ($34.90) comes with the heat resistant fabric that is used on the inside of the bag when it is opened out to provide a portable ironing surface. I have also put together a kit to go with the pattern that includes fabric, Insulbrite heat resistant batting, elastic and buttons for $26.95 in three different colour choices - orange, green, or pink.
The larger version of this pattern is still available to suit your regular size iron and we also have heat resistant batting and fabric available on the bolt if you want to make an iron caddy for all your friends.
If you need some more fabric to keep you going over Christmas and can't resist a bargain, now is the time to stock up on Batiks which are now 30% off, and I have also topped up the selection of fabrics which are a massive 50% off....help me out here people! New stock is arriving and I need to make room!!!!
We have a few more days left of the annual Bernina Christmas Sale which finishes Christmas Eve when we will take a break for two days. The shop will be open on the 27th December, then closed January 1-2 while we hopefully enjoy some nice summer days.
Now for something special from the recipe department...who can resist a baked cheesecake???
Dark Chocolate and Hazelnut Baked Cheesecake
Preheat the oven to 150 C (not fan bake).
For the base blitz 200 gm chocolate digestive biscuits in the food processor with 50 grams of hazelnuts. Then add 1/3 cup melted butter and pulse to combine.
Tip the mixture into a greased 20 cm springform tin which you have lined with baking paper. (Base and sides). Press the mixture into the tin firmly and then set aside to chill while you make the filling.
Filling
½ c cream
200 grams good quality dark chocolate
1/3 c Nutella
¼ tsp salt
1 tablespoon Frangelico liqueur
500 g cream cheese
½ c caster sugar
2 large eggs
Heat the cream in a saucepan (do not boil). Take off the heat and add the chocolate, Nutella and salt. Cool slightly add the liqueur and stir until smooth.
Beat the cream cheese (room temperature) until light and fluffy, add in the eggs and sugar and beat well. Add in the chocolate mixture and fold together making sure it is mixed well.
Pour the filling onto the base and bake for about an hour or until just set. Turn off the oven and leave the cheesecake in the oven with the door open.
When completely cool decorate with fresh or freeze dried raspberries, hazelnuts and chocolate and serve in small portions as it is very rich!
Happy stitching and a huge Merry Christmas from me and all the team at Annie's!
Rachel