Newsletters
Annies Ramblings - small and portable projects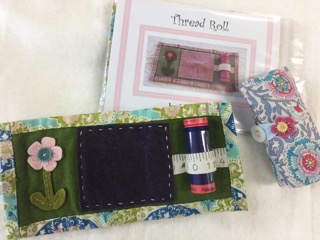 Hi there. Just a quick newsletter as I am out of town...but never fear I have my stitching with me!
At this time of the year small and portable projects are a good idea. This means that you can fit in a few stitches here and there while still enjoying summer, day light saving time, and barbeques.
We have lots of kits in store for English Paper Piecing, wool applique, stitcheries...take a look on the Annie's website for designs by Marg Low, Sue Spargo, Anni Downs (Hatched and Patched), Natalie Bird (The Birdhouse) and Lucello and many more!
https://www.anniesquilts.co.nz
This Thread Roll from Australian Designer Marg Low is an ideal addition to the handbag or a perfect present for the person that has everything. I have just finished these samples and the kits ($18.00) are now available in Tilda fabrics. (Thread spool not included).
On to the recipe....probably my favourite summer fruit is the nectarine, particularly the white flesh variety. If you have extras that need using up this simple relish is a great accompaniment to chicken and barbeque meats or in a cheese toastie.
Nectarine Relish
¼ cup balsamic vinegar
2 tbsp brown sugar
½ tsp mixed spice
1 tsp wholegrain mustard
1 c finely diced nectarine
Combine the ingredients in a small pot and heat 5-6 mins until the mixture has reduced and is syrupy.
Happy stitching
Rachel