Newsletters
Annie's Ramblings - Regular weekly classes start February 5th!
Hi there. We are almost at the end of January and all those parents of school age children are frantically sewing on name labels, dealing with the book lists and counting the days until the holidays are over!
We have a family wedding the first weekend in February and straight after that we will be back into our regular class schedule with Tuesday nights kicking off on the 5th and Thursday morning will start on the 7th of February. This will be closely followed by our first wool class of the year on Saturday February 9th. More details on the class page of the website.
https://www.anniesquilts.co.nz/cms/classes.html
The end of February/early March will also see us kick off the new Field Journal Club from Cottage Garden Threads. This botanical stitchery project is teamed up with beautiful Liberty Lawn fabrics and has been very popular. You can join up with this project later, but if you want to be part of the first shipment of club packs, please let me know as soon as you can.
As part of the Field Journal Club, a kit for a Journal Cover and Travel Pouch is an optional extra. The journal folder is an A5 lever arch file, and finding these is proving to be a little more difficult than I thought. However I have sourced a quantity and I am able to pass these onto you at $10.00 each. Let me know if you would like to pre-order one.
Some of you may have seen my post on Instagram of the French General Jardin de Versailles quilt. I struck a little hiccup when it came to the last border as there is an error in the pattern. I contacted Moda and surprisingly my message from little old NZ was the first they have heard of it! Moda and The French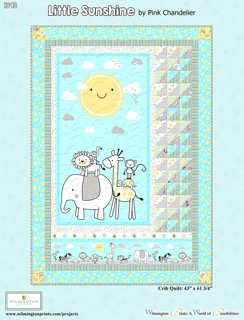 General have now made a correction, but if you have purchased the pattern or the kit you will need to trim the blocks in the final border back to 3 ½" ( so they are 3" finished) to make them fit. I will put a note in with the patterns and kits that I have here so there won't be any surprises! Despite this minor hitch, it is a very beautiful quilt and no extra fabric was needed.
This week I would also like to show you a brand new cot quilt kit that is hot off the sewing machine called "Little Miss Sunshine". Ideal for either a girl or a boy, the kit includes everything you need for the quilt top and binding for $99.00. Finished size is a generous 43 x 61 ¾" – ideal for the cot and beyond. .
Well, that is all from me this week...onto the recipe. This is Jesse's recipe (my daughter's partner). He definitely scores brownie points when he brings me cake...I am more than happy to provide the rhubarb. This is delicious as is, but is taken to a new level with the addition of custard!
Rhubarb Coconut Cake (serves 10)
1 ½ c (225g) self raising flour
1 ¼ c (275 g) caster sugar
1 ¼ c (110 g) desiccated coconut
125 g melted butter
3 lightly beaten eggs
½ c (125ml) milk
1 tsp vanilla essence
¾ c (90g) finely chopped rhubarb
2 extra stalks of rhubarb
Demerara sugar
Preheat the oven to 190C and prepare a deep 20 cm round cake tin.
Combine the flour, sugar and coconut in a bowl. Stir in the butter egg milk and essence, and mix to combine.
Spread half the cake mixture into the prepared tin and scatter with the finely chopped rhubarb. Spread the remaining batter over the top.
Cut the extra rhubarb into 5 cm lengths and arrange them on the top of the cake. Sprinkle with demerara sugar if desired.
Bake for approximately 90 mins in a moderate oven or until a skewer comes out clean when tested.