Newsletters
Annie's Ramblings - I hope you enjoyed a day off for Waitangi Day.
Hi there. I hope you enjoyed a day off for Waitangi Day. Ashburton's Multi Cultural Bite has become a very well supported annual event for the town on February the 6th each year, and a celebration of all the many different cultures that are represented within our community with music, dance and of course plenty of amazing food. Be sure to mark it on your calendar for next year!
This week we are back into our regular classes at Annie's with the monthly Woolly Stitchers Day on this Saturday for all you wool applique enthusiasts. It is $20 for the day and everyone is welcome.
In terms of what is new in the shop we have some more stunning lawn fabrics from Liberty of London along with 2" precut hexagons and bias binding, 5" charm squares from Tilda and Moda. The latest editions of Quiltmania and Australian Quilters Companion have also landed with plenty of ideas and new projects to keep you inspired.
If you are into brights and need a stunning extra wide backing fabric, this one has just arrived from Kaffe Fasset. I aso think this would look awesome as a duvet cover with matching pillow cases.
Well...it is time for me to run, as I haven't managed to train my sewing my sewing machine to make quilts by itself yet. I wonder if I should get 'Siri' to have a word with it?????
Before I forget...the winner of the $50 voucher from Annie's for January is Lisa Wilson of Ashburton. Well done Lisa, your voucher is waiting for you.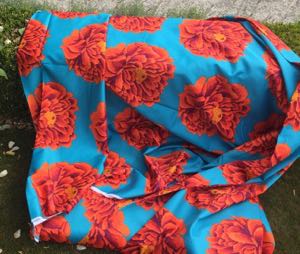 This is a quick and easy slice to make up if you need something wholesome to fill the lunch boxes. The recipe is versatile enough that you can adjust the amount of sugar and golden syrup according to your taste (I usually just use honey), and the fruit and nuts can be adjusted according to what is in the cupboard at the time.
Muesli and walnut slice
1 cup plain rolled oats
½ cup each of wholegrain oats, shredded coconut and walnuts
1 ½ cs dried fruits
¾ c sugar
1 c flour
1 tsp baking powder
100 g butter or coconut oil
½ c golden syrup
Melt the butter and golden syrup. Place all the other ingredients into a bowl and then mix these together with the melted butter and golden syrup. Press into a tin and bake for 15-20 mins or until golden. Leave to cool and then cut into bars.
Happy stitching,
Rachel