Newsletters
Annie's Ramblings - save up to $1000!
Hi there. This week I would like to tell you about some of great specials we have from Bernina. If you need a new machine, another machine or one for another member of the family, this is definitely a good time to catch a bargain.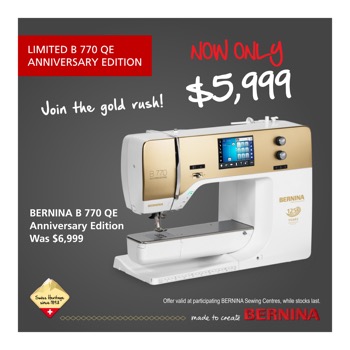 Last year was the 125th Anniversary of Bernina and they produced this very striking 'gold' fronted 770 edition to celebrate......however given that this is now their 126th year and there are some of these models still in stock that is your gain with savings of $1000 on this model.
The B350 is going out of production as is the Bernina 215 so again it is time for you to save with $600 off these models. All these machines come with a full warranty, and a guarantee that the parts will be available for the 25 years. You are welcome to pop into the shop and check out the features of the various machines or check on-line at www.bernina.co.nz – if you scroll down to the bottom of the page on the bernina website you can also try out the simulators for the machines which allow you to try all the stitches, and I promise you won't have to do any unpicking!
While it is sad to see these very popular machines disappear from the range, we are really excited about the new 4 series machines that are on their way.
New in the shop this week is this gorgeous linen sampler panel from The French General. We had a few of these last year, but they all sold out within a couple of days. Thankfully I was able to re-order! They come as a set of four pre-printed stitcheries for $29.90 per panel which could be framed, made into cushions, a quilt or a feature of a sewing bag or box. Be in quick as stocks are limited.
We are looking forward to a busy weekend as we host tutor Griet Lombard for a whole weekend of stitching and inspiration, and we are also finalising details for our annual quilting retreat in Akaroa (28-30 June) which is always a great weekend. (More about that later.)
On to the recipe....it won't be long before pumpkins are in abundance and this a very tasty way to get more vegetables into your diet, and you can adjust the spices to suit.
Roast Pumpkin Dip
1 kg pumpkin, peeled and chopped
4 cloves garlic (leave the skins on)
2 tbsp olive oil
1 tsp cumin
½ tsp chilli flakes
2 tbsp tahini
1 tbsp red wine vinegar
Salt and pepper to taste
Toasted pumpkin, sunflower seeds and chopped walnuts to garnish
Roast the pumpkin, oil and garlic on a baking tray at 180 C for about 45 mins or until tender.
Squeeze the garlic from the skins into the food processor and add the spices, tahini and vinegar. Process until smooth adding a little extra oil if necessary.
Place in a bowl and top with the toasted nuts and seeds. Serve with crackers, or pita crisps.
Happy stitching,