Newsletters
Annie's Ramblings - New book from Sue Spargo!
Hi there. It has been another busy week in my quilty world, and it is amazing to see so much snow on Mount Hutt with more expected in the next day or so – more great stitching weather is on the way!
I am excited to tell you that we have a couple of great classes coming up with well-known prize winning quilter and tutor Bev Dyke from Motueka. Bev does amazing work from wall hangings to King size quilts all on her domestic Bernina machine and is happy to pass on her skills and knowledge to others. There will be two one day classes ($45.00 each), one for beginners (Saturday 15 June) and one for intermediate quilters (Sunday 16 June). You will need to book in early as numbers will be limited. (More details on the class page of the website)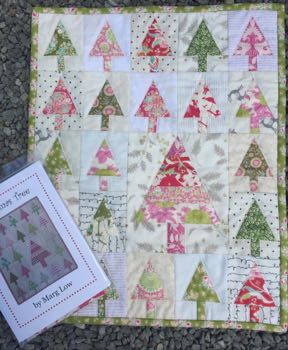 Also new in this week is the new book from Sue Spargo called "Natures Trail" ($56.00). It is quite different from her other publications with more emphasis on background piecing of her wool fabrics with surface embroidery, rather than the heavily embellished applique work she is known for. It is a very nice book with plenty of scope for you to build your own designs around her ideas.
The other thing I would like to show you is this little Christmas wall hanging that I have just finished using Tilda fabrics. This Marg Low design and comes as a kit with all the fabrics for the quilt top and binding ($48.00).
Now....onto the recipe. This is a good one to use some of the abundant supply of courgettes that almost get the better of us at this time of the year!
Courgette and Feta Tart
1 pack of store bought pastry
3 small courgettes
1 small red onion
100 g feta
3 eggs
200 gm sour cream or crème fraiche
½ c parmesan cheese
Salt and pepper to taste
Line a tart tin or pie dish with the rolled pastry. Place the chopped courgettes, onion, feta on the pastry. Combine the eggs and the other ingredients and then pour over the courgettes. Season with salt and pepper and bake for 30-35 minutes at 180C or until golden. Serve with roasted tomatoes and salad.
Well....that is all from me this week, take care and happy stitching
Rachel
Annie's CQS