Newsletters
Annies Ramblings - 27th March 2019
Hi there. Well, it is that time of the year that most retailers tend to dread with the end of the financial year and the stocktaking that goes with it. This is also the time when I discover my ever increasing 'to-do' pile, which I have to say is continually growing! But wouldn't it be terrible to "be borrrred....and have nothing to to do!"
The Field Journal kits have finally arrived in several postings, so the shipments to you have been staggered also. I have been burning a bit of mid-night oil so that you can see the samples in the shop which are reasonably quick to do and very pretty using basic embroidery stitches and of course the beautiful hand dyed Cottage Garden Threads. I do have a few places spare in this round, however there is also the opportunity to join in with this Block of the Month in another couple of months' time.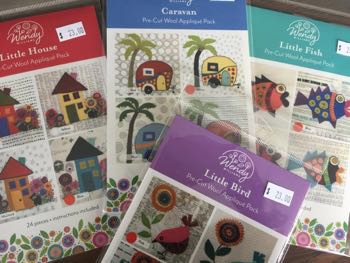 Something else that is just new in store are these pre-cut wool applique kits from Australian designer Wendy Williams. We have four different designs available featuring birds, caravans, houses and fish. They are $23.00 each and contain the pre-cut wool fabric and instructions to make one applique. (Background fabric not included)
Next weekend we will have the Woolly Stitchers Day on Saturday April 6 and the following weekend I will be teaching a wool applique class in Nelson. Don't forget our UFO (Unfinished Objects) day on the 27th of April which is your opportunity to get those projects out of the cupboard and get some help to finish them. More details on the class page of the website.
If you are keen to join us for our Akaroa Retreat this year June 28-30 for a weekend of stitching, good food and absolutely no housework, please let me know. The staff at the Akaroa Village Inn look after us very well, and you are also welcome to extend your stay either side of the retreat if you wish.
Now...onto the recipe. This is a good recipe to use up some of those vegetables lurking in the fridge, garden or freezer.
Chicken and Bean Teriyaki Rice
2 skinless chicken breasts
2 ½ cups of cooked brown rice
2 carrots
1 onion
1 tsp sesame oil
1 ½ - 2 cups of broad bean (I like them podded steamed and double shelled)
Fresh coriander and spring onions to garnish
Teriyaki Sauce
1/3 cup soy sauce
1/3 c Japanese rice wine
2 cloves chopped garlic
1 tsp grated fresh ginger
2 tbsp brown sugar
To make the sauce heat all the ingredients together and simmer for 2 mins. Pour into a jug and set aside.
Dice the chicken and marinade in half of the teriyaki sauce for about 10 minutes while you prepare and dice the vegetables. Brown the chicken in a pan with the sesame oil. When cooked add in the vegetables, cooked rice and remaining sauce. Serve in bowls and garnish.
Happy stitching,
Rachel