Newsletters
Annie's Ramblings - Annual Bernina Sale Now On!
Hi there, and a very happy Easter as we all look forward to the long weekend. After a hectic few months we are also looking forward to a couple of days break over the long weekend. However we will be open on Easter Saturday, and then it will be business as usual on Tuesday and Wednesday before we are closed for Anzac Day.
We have also been busy with the Bernina Annual Sale which started this week and continues until mid-May with some great savings on Bernina and Bernette sewing machines and overlockers as well as 20% off feet and accessories.
I am really excited about the new range of fabrics that have just arrived from Moda including jelly rolls, layer cakes, charm squares along with every fabric in the range (as they are all gorgeous) from Jo Morton's Hickory Road. If you love reproduction and antique quilts, these are a must have!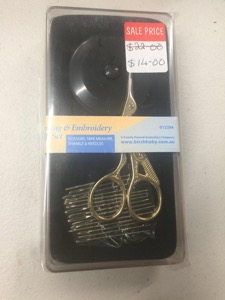 I also have another great little deal for you this week. This set includes, stork scissors, tape measure, thimble and needles and is just $14.00 (usually $22.00) and would make a great gift (even if you stash them away until Christmas!) Or it could be a wee treat for yourself. Click here to view...
Last weekend I had a great time teaching a wool applique class in Nelson. The ladies looked after me extremely well, the weather was beautiful and I also was able to catch up with family for a couple of days. I will be back in Motueka this time next month for the annual quilt show at the Motueka Recreation Centre with lots of goodies from the shop to show you, so make sure you mark May 17-19 on the calendar.
Don't forget our UFO Day on the 27th of April – a great opportunity to finish off those "UnFinished Objects" more details on the class page of the website.
In the meantime....time for a bit of chocolate comfort food!
Chocolate Bailey's Self Saucing Pudding
125 g self-raising flour
70 g caster sugar
¼ c cocoa
½ tsp baking powder
50 g melted butter
2 eggs lightly beaten
60 ml milk
50 g dark chocolate (chopped)
Sauce-
¼ cup cocoa
1 c firmly packed brown sugar
¼ c Bailey's lacquer
Preheat the oven to 180 C and grease a 1 litre baking dish. In a bowl combine the flour, sugar, cocoa and baking powder.
In a separate bowl combine the melted butter, eggs and milk. Pour this into the dry ingredients and mix well and then fold in the melted chocolate. Pour this into the prepared dish.
Mix the sauce ingredients and then pour the sauce over the batter and bake for about 30 minutes. Dust with icing sugar and serve with icecream, custard or cream.
Happy stitching, and have a fabulous weekend with lots of chocolate and hot cross buns!
Rachel
Annie's Country Quilt Store
03 3076 277
167 Archibald Street
Ashburton 7700
www.anniesquilts.co.nz