Newsletters
Annie's Ramblings 2.5.19 - Art Deco Exhibition and Pink Challenge now on!
Hi there. There are lots of things happening at Annie's this week with parcels arriving, new stock, new machines and plans being made for upcoming events as well as getting the classroom ready for the touring Pink Exhibition from Aotearoa Quilters this weekend.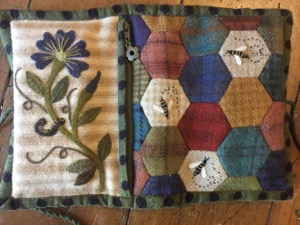 The exhibition will be open in the classroom Friday, Saturday and Sunday from 10-4 each day with a gold coin donation for entry. The quilts featured feature work from some of the best quilters from throughout New Zealand and is not to be missed.
I am also excited to tell you about another well-known quilter and tutor Ngaire Brooks from north of Auckland who is coming to tutor for us September 21-22. She will be teaching her Mini Thread Holder featuring wool applique, English paper piecing, cord making and using zips and clear vinyl pockets to create a beautifully finished and very useful little bag.
Ngaire has stitched her sample using wool, but I also think it would look stunning stitched in Japanese woven fabrics or cottons whichever takes your fancy. I have kept the price of this two day class as low as I possibly can just to cover the costs, so you will need to book in early so you don't miss out. A starter kit will be available. More details on class page of the website.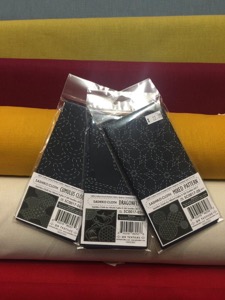 New in store this week we have lots more pre-printed sashiko panels just arrived in. These are smaller projects measuring 12" x 12" in quite detailed patterns. We have also had a new shipment of hanky linen and there are some great new colours – teal green, mustard, taupe, deep red, brick and cream which are all 137 cm wide. Great for applique work or stunning if you want to make yourself a new tunic for winter at $29.90 per metre.
Before I forget...we are start of a new month again and it is time to draw another name from the hat for the Annie's $50.00 voucher giveaway. Congratulations to Lois Burridge of Ashburton.
This week's recipe is a bit of a treat if you like nuts.
Toffee Nut Clusters (makes about 24)
200 g unsalted nuts such as almond, walnut, pistachio and Brazil
4 tbsp each of pumpkin and sunflower seeds
230 g caster sugar
1 tsp vanilla extract
Preheat the oven to 200C or 180C fan forced. Put the nuts and seeds into a baking tray and bake for 3-4 minutes or until toasted. Cool and then chop the larger nuts.
Combine the sugar and ½ c of cold water in a saucepan over a low heat, stir until the sugar is dissolved. Increase the heat to high and bring to the boil. Boil without stirring for 5-7 minutes or until the mixture is golden. Remove from the heat.
Stir in the nuts, seeds and the vanilla into the toffee. Place small spoonful's onto trays lined with baking paper. Cool.
Rachel
Annie's Country Quilt Store
03 3076 277
167 Archibald Street
Ashburton 7700
www.anniesquilts.co.nz