Newsletters
Annie's Ramblings - 8th May 2019
Hi there. It really does feel like winter at the moment with dreary misty and shorter days...I hope you are making the most of the guilt free stitching opportunity when you can be tucked up by the fire rather than in the garden!
This week I thought I would show you a simple little cross stitch sampler that I have just finished and got back from the framer. The verse is from a hymn that many of us will remember from Sunday school. The pattern is $19.00 or $75.00 including the hand dyed 32 count Dye Weeks linen.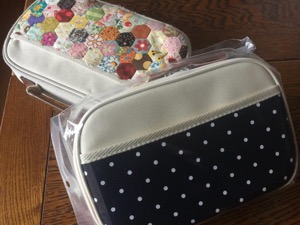 These little bags have also just arrived in and can be used as they are to hold your stitching, treasures, make up or other essentials or they do look great embellished with your favourite stitching, hexagons, clam shells or crazy patch. These are $38.00 each.
Don't forget we have Woolly Stitchers Day this Saturday from 10.00-4.00pm. It is $20.00 for the day and great inspiration (and company) for all those hand stitched wool applique projects.
This week's recipe is a delicious salad that is a great accompaniment to Indian dishes, or just something different to add to your BBQ repertoire.
Carrot and Coconut Slaw
4 large peeled and grated carrots
2 tsp olive oil
Juice of a lemon
1 tbsp pomegranate molasses
1 dried shredded coconut
1 small red onion
1 long green chilli
¼ c peanuts.
Fresh coriander leaves to garnish.
Finely chop the onion, chilli and peanuts and then combine with the rest of the ingredients. Serves 6.
Rachel