Newsletters
Annie's Ramblings - Bernina Roadshow in Ashburton this Wednesday!
Hi there. I hadn't caught up with the news that the Queen is having a birthday next weekend, or at least we are celebrating it! May has been a busy month, but the good news is that we will be open every day over the long weekend and it will be good to see you if you are out and about.
However, before we get to that we have a tuffet class this weekend, and I hope you have a ring around Wednesday the 29th May on the calendar, as we are excited to be hosting the Bernina Road Show in Ashburton. Call in for a cuppa and something to eat while you check out the latest in Swiss engineering and sewing machine technology.
Glyn (Bernina NZ General Manager), Julie (National Product Educator) and Rebecca Owen (Bernina's long arm quilting expert) will be on site from 9.00 am until 6.00 pm demonstrating and answering questions with plenty of help and advice. You can also go in the draw to win a brand new sewing machine!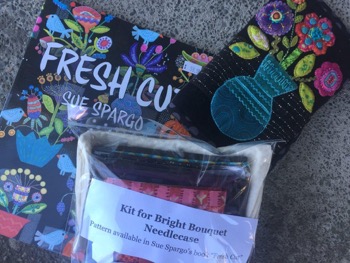 This week I would like to show you the Sue Spargo needle case that I finally finished recently called Floral Bouquet. This is from Sue's book Fresh Cut and was also published in issue 94 of the Inspirations magazine (sorry this issue is no longer available). I have put together some kits for this which include all the fabrics (wool and cotton), batting, braids, ric rac, zips, button and hexagon papers. The kits are $79.90 and you will just have to add your threads to this, or use some from the stash!
Loads more fabrics has arrived in this week with lots more spots and dots from Kaffe Fassett and some very useful reproduction fabrics that will also blend well with Jo Morton's latest range Hickory Road from Moda in rich maroons, greens, blues and earthy browns.
Well...enough from me, onto the recipe. This is a good one to make before the rhubarb hibernates for the winter.
Rhubarb and Ginger Cake
450 g diced rhubarb
1 c brown sugar
1 egg
½ c oil
1 ¼ c flour
1 tsp baking soda
1 tsp ground ginger
½ c crystallised ginger
Preheat the oven to 160 c and grease and line a 20 cm spring form tin. Sprinkle the sugar over the diced rhubarb and leave for about 15 minutes.
Beat the egg and oil together and then mix with the rhubarb. Add the flour, soda and gingers. Stir until combined. Bake for about an hour or until a skewer comes out clean when tested. Serve with whipped cream, custard, yoghurt or icecream (or all of the above!)