Newsletters
Annie's Ramblings - 5th July 2019
Hi there. I hope you are making the most of a couple of very mild winter days. Great for catching up with the washing, but not so good for the skiers! Spare a thought for those people in France and Spain dealing with a heat wave!
We also had beautiful weather for our Akaroa retreat last weekend with lots of very productive sewing and good company. Check out the pictures on the Annie's Facebook page and put it in your diary to join us this time next year.
This pin drum pincushion and strawberry scissor fob is one of the new projects that I have just finished. The pattern is from American designer Stacy Nash and I have included the fabric, cross stitch linen, thread and needle in the kit which is $38.00. It is filled with crushed walnut shells along with a little bit of dacron stuffing, which we also have available. (The oil from the nut shells keeps your needles sharp and prevents them from rusting.)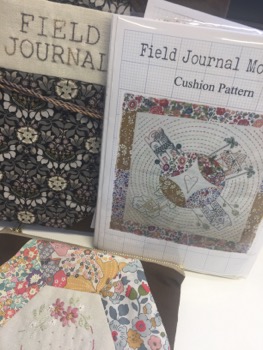 We have had a huge response to the Field Journal Block of the Month from Cottage Garden Threads, and the good news is that it is not too late to join in. We will soon be sending out block four which looks like a really interesting bonus project. More details at https://www.anniesquilts.co.nz/cms/shop-online/product/2100-field-journal-club-bom-price-per-month.html
Before I forget, last month's winner of the $50.00 voucher from Annie's is Jane O'Reilly of Ashburton. Congratulations Jane, your voucher is waiting for you.
This week's recipe is a quick easy one for when you need to feed people in a hurry.
Quick Red Curry
1 tbsp red curry paste
1 small onion
600 g beef schnitzel
400 ml coconut cream
½ c roasted peanuts
3 cups steamed rice
Heat the curry paste in a large saucepan, add the sliced onion and stir fry for 2 minutes. Finely slice the schnitzel and add the beef strips to the pan to brown. Pour the coconut cream over the meat, cover and reduce the heat to a simmer and cook for a further 10 minutes.
Serve with steamed rice and top with the finely chopped peanuts, with a helping of green vegetables on the side.
Take care and happy stitching
Rachel
Annie's CQS