Newsletters
Annie's Ramblings 16 July 2019 - Small Projects for Winter Evenings
Hi there. This week I feel that I have actually achieved something with two quilt tops finished and two more nearly completed. The unfortunate thing is that the quilts I particularly like are not generally the 'whip up in a flash' variety! I love hand applique, English Paper Piecing and embroidery as well as cross stitch, which all take time...I guess that is why I have lots of things on the go at once. But at least I will never be bored, as there is always plenty to do!
However, this week I thought I would show you a couple of small projects that are quite achievable and easily slotted in between the bigger quilts.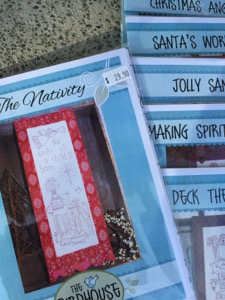 This Vintage Thread Caddy from Luccello ($28.00) is a very handy thing. Simply choose your favourite fat quarter (I have used a Liberty Cotton which we do have in stock), then glue the fabric to the pre-cut cardboard shapes. To finish off punch the eyelet holes and thread your string or cord with your threads around the basket and you are done! It also makes a really nice gift for a quilty friend.
New from Natalie Bird from The Birdhouse is the latest pre-printed Christmas stitchery in her series of hangings called "The Nativity". These are a bit addictive, and you may find that you can't just make one!
Now..on to the recipe. I have to say that the old crock pot gets a bit of a work out at this time of the year with winter casseroles and soups, but here is another handy idea for you. I use a lot of garlic in my cooking. It adds flavour, and as it is a natural anti-biotic it has got to be good for you right?
Dry Roasted Garlic
Whole bulbs of Garlic
½ Cup of Water
Place the garlic bulbs in a small metal dish. Pour the water into the crock pot and sit the garlic dish in this. Cover and cook for 2 hours on high. Serve as an accompaniment to other dishes or squeeze out of the skins and use in a vegetable mash, pesto, garlic bread, or with any meat dish.
Take care and happy stitching
Rachel
Annie's CQS