Newsletters
Annie's Ramblings - 1st August 2019
Hi there. With the start of a new month and the fact that we are starting to see some spring flowers burst into bloom we seem to be getting towards the other side of winter!
A few days off last week with the kids and their partners in Queenstown was enough to make the cold and flu bugs see me as fair game...when all else fails, whiskey and lemon juice with ice seems like as good a remedy as any!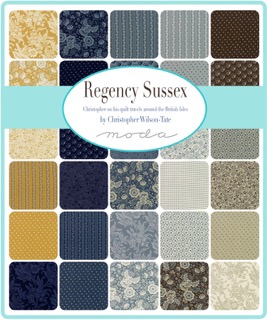 We have had lots more beautiful fabric arrive in over the last couple of weeks including this gorgeous range called Regency Sussex from Moda and new designer Christopher Wilson-Tate. Christopher has a private collection of more than 800 antique quilts and a lifelong involvement in textiles and interior design. I am sure he is a designer that we will hear a lot more from in future.
I have gone all out with this and ordered the whole range of Regency Sussex as well as jelly rolls and charm squares. These are timeless designs and it is worth squirrelling some fat quarters (or 3 metre pieces!) away for a raining day as I am sure it will be a very popular range.
For those of you busily making beeswax wraps, we have had more "bee fabric" arrive in as well.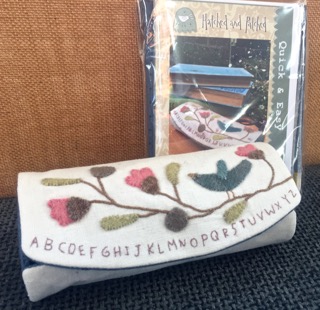 This another small project from Anni Downs from Hatched and Patched. The Briar Rose Case is a very handy little hold all for your scissors and threads, quick unpick and other essentials. The kit is $39.90 and comes with pattern, cotton, hanky linen and wool fabrics as well as DMC threads.
Before I forget the winner of last month's $50.00 voucher from Annie's is Jocelyn Sandilands from Timaru. Congratulations Jocelyn, your voucher is waiting for you.
Anyway...on to the recipe. This is tasty winter dip or spread which is great with soup and fresh bread rolls.
Cheesy Spinach/Silverbeet Dip
1 tbsp oil
2 cloves crushed garlic
100g finely chopped spinach or silverbeet
¼ c milk
¼ cup grated cheese (such as cheddar or tasty)
¾ cup mozzarella cheese
250 g cream cheese
1 tbsp Worcestershire sauce
Salt and pepper to taste
In a small pan heat the oil and cook the onion and garlic until tender. Pour off any excess liquid.
In a saucepan heat the milk and cheeses stirring until melted. Add the cooked vegetables and seasonings. Pour into a heat proof ramekin and sprinkle with a little extra mozzarella. Place under the grill for a few minutes until golden.
Take care and happy stitching
Rachel
Annie's CQS