Newsletters
Annie's Ramblings - 8 August 2019
Hi there. It is so nice to see the spring bulbs brightening things up and also to have the daylight hours starting to stretch out a little.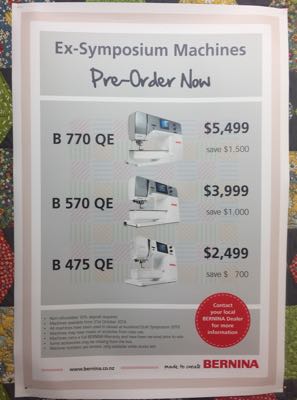 We are also starting to see things cranking up towards the end of the year and the big biannual event in the NZ quilting calendar the National Symposium which is in Auckland this year.
https://quiltsymposium2019.nz
It is not too late to register.
Annie's CQS will be there as a merchant, and so we are busy making up kits and preparing orders and co-ordinating lists and requirements with customers and tutors. Tutors Jane McDonald from BeBe Bold, and Kathy Dougherty from Patchwork Passion have both nominated Annie's as suppliers for their classes. Not everything is on our website, so if are looking for supplies it is best to either phone or email us and we will sort it out for you.
Bernina have also released details of the deals on ex-symposium classroom machines which represent some amazing savings on B570, B550 and the B475. You can check out these models at www.bernina.co.nz. We are taking pre-orders now with a 10% deposit, but numbers will be limited.
Another small project that I thought I would show you this week is this Antique Mannequin Decorative Pincushion from Luccello. We have put this together as a kit with the pattern, fabrics, and scissor charm for $27.00. It is stuffed with fibre fill as well as crushed walnut shells in the base to give it stability.
The very finely crushed walnut shells ($5.50 for a 250 g bag) are also very good for your needles and pins, as the oil from the nut shells stops them from rusting.
Here are another couple of events that are coming up that you may want to mark on your calendar.
Ashburton Creative Fibre Open Day. Monday 12th August 10.00-2.00 at the Tinwald Hall with Guest Artist Jenny Gillies
Costume and Textile Symposium 27-29 September in Nelson. Contact:

This email address is being protected from spambots. You need JavaScript enabled to view it.
On to the recipe...this is a tasty dinner option which serves four and the left overs are good for lunch the next day too. (Unless you have teenage boys, and then you will have no idea what leftovers are!)
Teriyaki Chicken Rice Salad
1 c sushi rice
¼ rice wine
¼ teriyaki sauce
4 cm piece of fresh ginger, grated
2 c cooked chicken
1 telegraph cucumber, deseeded and finely chopped
2 carrots, cut into match sticks
120 g spinach leaves
1 tbsp toasted sesame seeds
1 sheet nori
Rinse the sushi rice and then cook with water in a saucepan or rice maker until tender. Set aside to cool.
Combine the rice with the vinegar, sauce and ginger in a large bowl. Add the chicken, vegetables and seeds. Toss gently to combine and sprinkle with the finely shredded nori.
Take care and happy stitching
Rachel
Annie's CQS