Newsletters
Annie's Ramblings - 15 August 2019
Hi there...there just don't seem to be enough stitching hours in the day at the moment. (Or maybe too many projects on the go at once...surely not????) However, every day is another day closer to daylight saving and some warmer weather!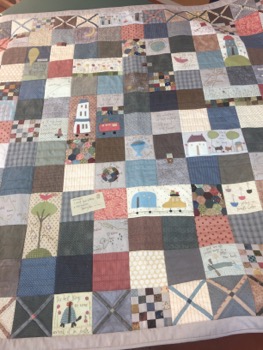 This week I thought I would show you my (finally) completed version of the "Here There and Everywhere" Block of the Month Quilt designed by Anni Downs from Hatched and Patched. Places are still available in the BOM program or you can buy it as a pattern and choose your own colours.
It is a quilt that you can tweak to tell your own story of the places that are special to you with wool applique, embroidery and simple piecing. It is $49.00 per month for 10 months and includes all the instructions, cotton and wool fabrics to complete the quilt top and binding. The pattern on it's own is $59.90.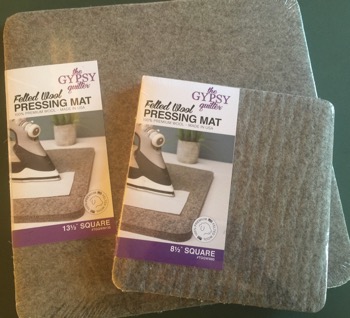 What else is new? Well there has been lots more fabric arrive, including some gorgeous small prints from Sevenberry fabrics (Japan), a couple of new New Zealand fabrics.
We also have lots more haberdashery items arrive including these felted ironing pads which are great for using with your mini irons for class. There are two sizes 8 ½" square ($46.00) and 13 1/3" ($89.00). I have just ordered another shipment of
mini-irons so keep an eye out for these in the next few weeks.
Now...on to the recipe. This is a quick and classy apple pie that you can whip up in a hurry which serves 8 and is delicious served warm with cream or icecream.
Apple, Almond and Coconut Tart
4 sheets of filo pastry
Olive oil spray or melted butter
2 Granny Smith apples
2 tbsp fruit jam
1 eggwhite
2 tbsp icing sugar
½ c flaked almonds
1/3 c shredded coconut
Preheat the oven to 200 C and line a baking tray with paper.
Lay two sheets of filo pastry on top of one another spraying olive oil or brushing melted butter in between each layer. Fold the pastry in quarters lengthwise to form one long rectangle. Repeat this to make two tart bases. Spray with oil or brush with more butter and then spread with the jam. Peel and core the apples and then very thinly slice them and spread them over the pastry. Bake for 5 minutes until the apple is tender. Whisk the egg white until frothy. Whisk in the sugar and then add the nuts and coconut. Remove the nuts and coconut from the egg white mixture and dot this over the tarts, discarding the excess eggwhite. Return to the oven for another 6-8 minutes until golden.
Don't forget about the great savings on the Ex-Symposium Bernina sewing machines. Ask us today!
Take care and happy stitching
Rachel
Annie's CQS