Newsletters
Annie's Ramblings - 21st August 2019
Hi there. This week I am excited to tell you about a great class that we have coming up with well-known New Zealand tutor Griet Lombard, which will appeal to the kid in all of us!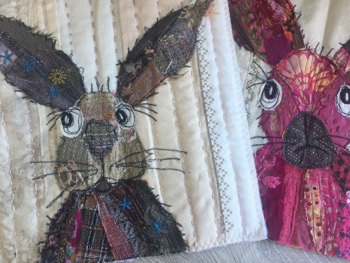 Griet is from Waitarere Beach near Levin and taught for us here at Annie's earlier this year. I have managed to convince to her to return the weekend of 23-24 November for a two day class featuring these gorgeous bunnies.
They breed like rabbits, so at the end of the weekend you will have enough to make a small quilt or to mount them as pictures, put them on bags or cushions! Check out the Annie's Facebook page for more pictures.
The class is $185.00 for the two days and uses different textures, threads, laces, and fabrics with free motion machine embroidery, hand quilting and embellishment to create these little characters which are all quite unique. You will need to book in early for this class, as places are limited.
Speaking of classes, this Saturday is our Woolly Stitcher's Day. If you are keen to have a go at wool applique you are more than welcome to join us. More details on the class page of the Annie's website.
Before I tootle off..I thought I would show you this very sturdy, good size tote bag from which is available as a kit ($79.00) or a pattern ($9.90) using some of the Japanese cotton linen fabrics. I have used Soft and Stable as the batting which is included in the kit. It is a bit more expensive than other battings, but it is an excellent product - easy to work with and gives a great result when you want a bag that will stand up!
This week's recipe is a good weekend brunch tummy filler which you can serve with fresh fruit or a berry compote, bacon or honey and yoghurt.
Rolled Oat Pancakes
1 ½ cups rolled oats
1 ½ c milk
2 tbsp oil
2 eggs beaten
1 tbsp brown sugar
½ c plain flour
1 tsp baking powder
1 tsp cinnamon
Pinch of salt
Butter for cooking
Soak the rolled oats in the milk in a large bowl for about 20 minutes. Sift in the dry ingredients and stir gently until just mixed. Leave to stand for at least 30 minutes before cooking.
Lightly greased a heavy based frying pan and cook the pancakes in batches turning them over when they start to bubble to cook through completely.
Stack the pancakes with your favourite accompaniments and enjoy them straight away.
Don't forget about the great savings on the Ex-Symposium Bernina sewing machines. Ask us today!
Take care and happy stitching
Rachel
Annie's CQS