Newsletters
Annie's Ramblings - 17 October 2019
Hi there. Oh how time flies! Sorry that there has been a bit of a drought between newsletters lately as we have been away.
We had a very successful Symposium in Auckland before detouring to Whakatane for a day trip to White Island. (This is New Zealand's only active marine volcano and a fascinating place.) After that the car was pointed in the direction of Rotorua, Wellington, Picton and home.
After covering some 2300 km we were less than 60km from home when were were rear ended by a drunk driver in a four car non-injury accident. Much to be thankful for, but my poor wee trailer is now a slightly different shape and in the hands of the panel beater.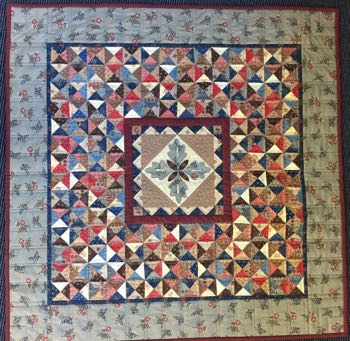 However, back to Symposium news. It is really exciting that next year Palmerston North will be hosting a mini symposium with their own flavour. You can register and check this out at www.quiltcentral.co.nz. Further down the track in 2021 I understand that Wellington have put their hand up to run the next major Symposium event. Lots to look forward to!
Anyway....back at Annie's where it is all go once again, I thought I would show you a couple of my new projects.
This is a small quilt featuring fabrics from Jo Mortin's Hickory Road range using the pattern from Simple Stitching which is a book she wrote with Kim Diehl. I have put this together as a kit with a layer cake, the book and some extra fabric for borders and sashing for $179.00. Or you can purchase the book (which is full of lots of gorgeous projects) on its own for $54.00.
This is another project that I finished and kitted a few weeks ago (and then forgot to take the sample to Auckland! Grr!) This little stitching pouch from Hugs and Kisses features a zip in the back so that you can put essential items like a spare key or coffee money, medication in it and attach to your handbag or gym bag or whatever. I have kitted it up with some liberty fabrics, linen, hexagon papers and zip ($21.00) or you can just buy the pattern ($15.00).
Anyway...enough rambling. The winner of the $100.00 voucher which was drawn at Symposium when you entered the draw at our stand was Di McBride.
And..................the winner of the monthly voucher from Annie's CQS for September is Jude Matheson from Ashburton.
Speaking of prize draws, spend at least $20.00 at Annie's CQS and you can go in the draw to win $10,000 cash as part of the Radio Hokonui promotion. Someone has got to win the cash, but you must be present at the Mitre 10 Christmas in the Park event in Ashburton on December 7 to claim your prize. Afterall $10,000 could buy a VERY nice sewing machine or a LOT of fabric!
On to the recipe...this is a super quick healthy idea for dinner when you are late home and the kids are looking at you like baby birds waiting to be fed! This serves 2, but can easily be multiplied to feed a crowd. (Left overs are good for lunch the next day too!)
Easy Vegetarian Curry
1 tbsp red curry paste (or use your favourite spice mix)
1 green capsicum
1 onion
1 large potato or kumara
400 g chick peas
400 g tinned crushed tomatoes
400 ml coconut cream
Roasted peanuts or cashews
Heat a heavy pan and stir fry the curry paste for 1-2 minutes until fragrant. Add the peeled and chopped vegetables and cook until soft. Then add in the remaining ingredients and simmer over a low heat for 20 minutes. Serve on steamed rice topped with the roasted nuts.
The Ashburton A&P Show is on this weekend..so if you are out in about, don't forget to call in as see us at Annie's as we are open every day!
Happy stitching
Rachel
Annie's CQS