Newsletters
Annie's Ramblings - 14 November 2019
Hi there...if you believe everything you see in the media you would think that this week everyone in Canterbury is either at the races, drinking bubbly, wearing a posh frock or all of the above. However, some
of us would just rather stitch and buy fabric!
Speaking of fabric, this gorgeous linen sampler ($21.70) from French General has just arrived in, along with some very nice cream and taupe prints from the Chafarcani range. I also have the matching plain background linen available if you want to back cushions or incorporate the stitcheries into a quilt. Be in quick as these samplers are going like hot cakes!
Also just arrived we have more Japanese indigo fabrics and some very beautiful Liberty Tana Lawn fabrics – just in time for lightweight summer shirts, floaty tops and dresses...as well as stunning quilts and applique projects of course.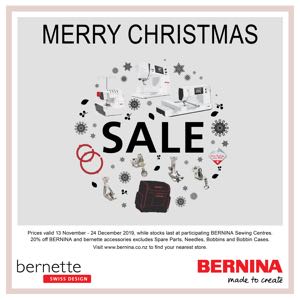 The other big news this week is that our Bernina Christmas Sale is now underway with some great savings on both Bernina and Bernette sewing machines and overlockers. There is also 20% off all accessories (excluding spare parts, needles, bobbins and bobbin cases). So if you need a walking foot, trolley bag or any of the many specialised feet that are on offer now is the time to stock up. You can check these out and www.bernina.co.nz and start making your shopping list.
I still have a few ex-symposium B570 and B475 machines available (these are better than sale price), and have been fully workshop checked and tested.
The shop will be open all weekend, and in the very capable hands of our team of staff as we head off to Melbourne to catch up with some of the Australian designers that we have come to know and love and hopefully to source some new goodies for you along the way. I will tell you all about it next week.
However before I tootle off there is just time for the recipe. Who can resist a good cookie?
MMmmm Caramel Biscuits
250 g cold butter
1 cup rice flour
1 ½ plain flour
1 c icing sugar
1 egg
For the Caramel:
60 g butter
1 x 395 g can of sweetened condensed milk
2 tbsp golden syrup
In the food processor – place the chopped butter, flours and icing sugar and mix well until crumbly. Add the egg and pulse until it forms a ball. Wrap in cling film and chill in the fridge for 30 minutes.
Preheat the oven to 180 C. Roll out the dough to ½ cm thick and use a small round cutter to make circles. Place on a tray and bake for about 15 mins or until golden. Cool.
To make the caramel, melt the butter, condensed milk and golden syrup in a heavy saucepan stirring until golden and bubbling. Keep at boiling point for at least 5 minutes stirring continuously until it thickens. Cool slightly, (the caramel will firm as it cools) and then place a dollop of caramel between two shortbread rounds to make a sandwich.
Have a great weekend,
Rachel
Annie's CQS