Newsletters
Annie's Ramblings - 22 November 2019
Hi there...phew! We are at the end of the week already and the days seem to have got away on me. The garden centres will be doing a roaring trade at the moment with everyone having to replant their gardens after the spectacular hail storms. It is pretty disheartening when everything was looking so good, but spare a thought for the farmers who have just lost a big part of their income for the year.
We had a really good trip to Melbourne last weekend and caught up with a good number of our suppliers and found a couple of new ones as well which I am quite excited about! More about that later.
Last week I mentioned the French General Linen sampler ($21.70). This sold out very quickly, however I have managed to get hold of some more...the same print, the same price, on the same gorgeous natural linen cloth with red printing instead of the stone colour previously. I have a few in stock now and two more bolts coming. (If you are going to stitch over the designs the colour of the print is not going to matter.)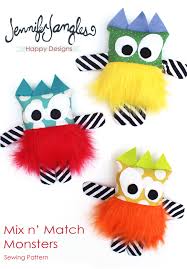 With Christmas school holidays approaching, I have put together a kit for this very cute little monster. All you need to do is add the stuffing. It is quick and easy to make and a great thing to encourage young people to have a go at sewing. Get them inspired and you could end up with a whole family of monsters! There are few different colour options and the kit is $29.00.
If you need a sewing machine to go with it, our annual Bernina Christmas sale is on now with Bernette machines from just $199.00 (includes full guarantee and back up service).
Now...on to the recipe. As we should be enjoying fabulous barbecue weather (she says poking her head out the window to check the forecast), this is a very tasty alternative to meat patties for vegetarians or if you just fancy something different. Try using small patties or balls in a wrap as an alternative to falafel.
Pumpkin and Chickpea Patties
1 cup of grated raw pumpkin
2 slices of bread made into crumbs
300 g tin of chickpeas
1 tsp cumin
¼ tsp chilli
½ tsp salt
½ c parsley
Oil for frying
Place the ingredients together in a food processor and blend until the ingredients hold together when squeezed.
Shape into patties and fry until golden.
Congratulations you have made it to the end of the newsletter for another week! As your reward I am letting you know that we have 20% off Matilda's 60/40 wool batting (while stocks last). Please email me or phone the shop to order and pay for your batting so that we can pre-cut it and have it ready for you to pick up or post out.
Have a great weekend,
Rachel
Annie's CQS
This email address is being protected from spambots. You need JavaScript enabled to view it.