Newsletters
Annie's Ramblings - New Hand Dyed Wool Collections
Hi there. Here we are another week closer to Christmas and still there is a long list of things to do before that magical deadline!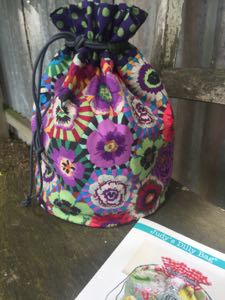 This week I thought I would show you a new bag that I have just finished. This would make an excellent project to work on over the Christmas break with 1 1/2" hand pieced hexagons. I have a limited number of kits in this stunning Kaffe Fasset fabric ($62.00) or it is available as pattern only ($23.00).
https://www.anniesquilts.co.nz/cms/shop-online/product/2236-judy-s-dilly-bag-kit.html
Also just arrived in are these beautiful hand dyed wools from Hatched and Patched. This boxed collection would make a gorgeous "just for me" Christmas present and is $249.00. If you would rather pick and mix these little lamb packs are like candy for those of us who love wool applique at $12.00 each.
https://www.anniesquilts.co.nz/cms/shop-online/product/2237-lamb-pack.html
Speaking of Christmas, don't forget that we do have gift vouchers available. If you have a keen young sewer in the family the Sew n Go machine for just $199.00 is a great place to start and comes with a full guarantee and back up service.
Now, onto the recipe. At this time of year new potatoes are a real treat...just boiled gently and served with salt, pepper and butter of course. If you want to dress them up a little this warm salad is delicious.
Warm Potato Salad
500 g new potatoes
300 g broad beans
1 tsp sugar
1 tsp prepared mustard
1 tsp cider vinegar
3 tbsp olive oil
3 sprigs of fresh thyme
Salt and freshly ground black pepper
100 g of spinach, or salad greens
3 x Spring onions
Finely chopped cooked bacon
Cook the potatoes until just tender and drain. Blanch and drain the broad beans remove the outer grey skin.
Whisk together the vinegar, sugar and mustard and then add in the oil and thyme leaves.
Make a bed of the salad greens on a large plate. Top with the potatoes and double shelled beans. Then pour over the dressing, season to taste and garnish with the finely chopped spring onions and cooked bacon.
Happy stitching,
Rachel
Annie's CQS
This email address is being protected from spambots. You need JavaScript enabled to view it.