Newsletters
Annie's Ramblings - 19 December - Last minute Christmas Ideas
Hi there and Merry Christmas everyone! This will be the last newsletter for this year as we look forward to a very busy and exciting 2020. Thank you all for your support, your enthusiasm and your creativity over the past year!
Lots more parcels have arrived in this week including gorgeous new reproduction fabrics from Paula Barnes, more Japanese woven fabrics and Essex linens...we are almost bursting at the seams!
I am enjoying my cross stitch again at the moment and I thought I would show you this little project called Spring Tail Feathers from Threadwork Primitives that I have recently finished and kitted up. This is $34.00 and includes the linen, chart, threads, lace and fabrics to complete the needlebook.
We have lots of cross stitch patterns, kits linens and threads in stock and on the website and if you can't find what you need I am happy to try and source these for you.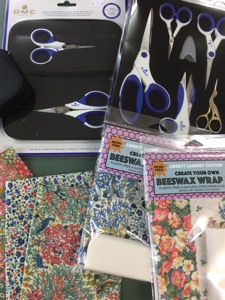 Also just arrived in are a couple of really good last minute Christmas ideas – these DMC scissors are really good value. The two pair pack are in a rigid foam lined zippered case and are $37.00 for the set. (If you get keen you could also embellish the outside of the case.) The larger 5 piece set is just $49.00 – excellent value for a trusted brand. If you need a project bag to put them all in, the Yazzii bags we have in stock would be perfect!
If you had always wanted to get started on making some beeswax wraps to help reduce your reliance on cling film in the kitchen (and stop your cheese from going mouldy), these kits include 3 Liberty cotton fabrics, wax and instructions to get you on your way. Either make them for someone as a gift or better still, give them the kit to make it themselves. The kits are $27.00 each or two for $49.00.
https://www.anniesquilts.co.nz/cms/latest-products.html
Don't forget that our Bernina sale continues until close of business on Christmas Eve with some great prices on machines and overlockers and 20% off accessories. Now is a great time to buy as I have just been given the heads up that there will be some price increases in the New Year.
Now..onto the recipe. This is a nice treat to have with a cuppa at this time of the year or to gift as a gift.
Chocolate Honey and Nut Slice
170 g butter, softened
2/3 c sugar
½ tsp vanilla essence
1 ¾ c flour
¼ c cocoa
1 tsp baking powder
Topping
100 g butter
½ c each of sugar and honey
2 cups mixed nuts
150 g dark chocolate chopped
Preheat the oven to 180C and line an 18 x 28 cm pan with baking paper.
Cream the butter and sugar until light and fluffy. Add the vanilla essence and then the dry ingredients until and mix well. Press into the tin and bake for 15 mins.
Meanwhile, melt the butter, sugar and honey together in a saucepan. Bring to the boil and simmer for 2 minutes.
Remove the slice from the oven and sprinkle the nuts and chocolate pieces over the base, then pour the honey mixture over the top.
Reduce the oven temperature to 150C and cook for another 10-15 minutes. Leave to cool and cut into small pieces.
Well...that is all from me.....have a wonderful and safe Christmas filled with good people, nice food and plenty of stitching.
We will be open every day as usual with the exception of Christmas Day, Boxing Day, January 1 and 2.
Happy stitching,
Rachel
Annie's CQS
This email address is being protected from spambots. You need JavaScript enabled to view it.