Newsletters
Annie's Ramblings - 29 January 2020
Hi there...it has been another busy and very warm week!
Last weekend we had a fabulous hosting time tutor Griet Lombard. We have locked her in to come back to teach for us again in August...more details later. I am not sure if it will be bunnies again or one of the new projects that she is working on.
This week I thought I would show you one of my new quilts called Jardin de Fleur from Frances Lilly Designs. For my sample I mainly used fabrics from Tim Holtz which I have put together as a kit ($136.00). The quilt measures 52 ½" x 55 ½" and used one layer cake, although I have added some extra squares in the kit to give you a few more choices. The sewing of this quilt is quick and easy with the most time being taken up with deciding where you will place each fabric.
The quilt could be made larger by adding more rows or a border. We have a selection of layer cakes in stock or if you would rather choose your own fabrics, the pattern on its own is $25.00.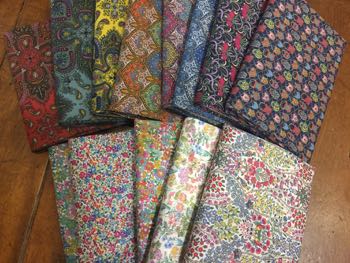 Just arrived in this week has been another shipment of stunning Liberty Tana Lawn fabric. These fabrics make beautiful (and cool) shirts and tops that wash and wear well, not to mention stunning quilts. The fabrics sew beautifully either by hand or machine, on their own or in combination with other fabrics and textures. My top tip would be to use a nice fine needle and good quality thread.
Anyway...onto the recipe. My plums are almost ready. Plums are a bit under rated when it comes to fruit...after all they have to complete with apricots, cherries, peaches and nectarines at this time of the year. However they are excellent not only in sauces, chutney and jam, but in muffins, pies, cakes and roasted as an accompaniment to red meats or as a sweet dish as follows.
Roasted Plums
20 middle sized plums or 16 large ones
3 tbsp brown sugar
Grated zest and juice of 2 oranges
2 tbsp orange liqueur such as Grand Marnier or Cointreau
Preheat the oven to 200C. Halve the plums and remove the stones. Place them in a roasting dish cut side up. Sprinkle with sugar, zest, juice and liqueur. Bake for about 30 mins or until the plums soften.
Serve with a white chocolate sauce using –
100 ml cream
40 g butter
100 g white chocolate pieces
Put the ingredients into a glass bowl over a pot of boiling water (not letting the water touch the bowl) and melt together. Cool and leave to thicken before pouring over the plums just before serving.
By the way, to give you the heads up, the dates for our annual Akaroa retreat will be 3-5 July this year. Let me know if you are keen to join us!
Happy stitching,
Rachel
Annie's CQS
This email address is being protected from spambots. You need JavaScript enabled to view it.