Newsletters
Annie's Ramblings 7th May 2020 - Don't forget Mother's Day!
Hi there. Thank you for all your orders over the past couple of weeks – it is good to know there is still plenty of sewing activity going on out there – and don't worry, we still have plenty of stock!
Also don't forget Mother's Day is fast approaching and it is not too late to send or email gift vouchers and parcels. You are welcome to email, phone or txt me – 03 3076 277 or 027 800 55 44 any time...well almost any time as there is some pretty late night stitching going on at the moment!
Our technicians are available and have been busy with repairs and servicing. Sewing machines and overlockers can be dropped off at the front door of the shop during business hours. (9.30am-4.30pm).
You are also welcome to pick up thread, haberdashery, kits, fabric, batting, machine needles or whatever else you need from the front door or we can deliver around town.
The Bernina Sale continues until the end of May and there is also 20% off Bernina and Bernina sewing machine feet and accessories.
This week I thought I would show you a couple of projects that I have been working on. The first is the Nellie Hill- Plus one Quilt by Rosalie Dekker. You will have to forgive the fact that it is not quilted yet!
The quilt measures 68" x 92" (173 x 234 cm), and I have put together a fabric pack for this is the colours I have used. This is $199.90, and the pattern is $9.90. Suitable to all levels of ability it is simple sewing, and all about how you place the fabrics.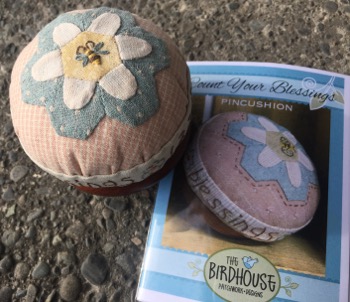 The next project is another cutie from Birdhouse designs called "Count your Blessings". I have put the kit together for this little pincushion with pattern, fabrics, and paper pieces for $23.00. The beautiful little hand turned wooden stool base is available as an optional extra for $24.00.
Now on to the recipe...and bearing in mind that sometimes (any time now) we all need a bit of a treat!
Chocolate Fondant Puddings (makes 6)
200 g dark chocolate
100 g butter
1 tbsp cocoa
1 tbsp self-raising flour (yes, only 1 tablespoon)
1/3 c sugar
3 eggs
Melt the chopped butter and chocolate in a small bowl over a pot of simmering water, and mix until smooth.
Sift the cocoa, flour, and sugar into a bowl and then whisk in the eggs and chocolate mixture.
Grease a large size muffin tin and divide the mixture between 6 holes in the pan. Cover and freeze overnight or for at least 3 hours.
Bake from frozen at 220 C for 7 minutes. If your muffin tins are a different size you may need to alter the cooking time. Serve immediately with cream or icecream and enjoy some chocolate happiness!
Before I tootle off...the winner of the Annie's $50.00 voucher for March is Sue Eaves from Cave. Congratulations Sue, your voucher is waiting for you.
Keep stitching and carry on...and Happy Mother's Day for Sunday!
Rachel
Annie's CQS
This email address is being protected from spambots. You need JavaScript enabled to view it.