Newsletters
Annie's Ramblings 3rd July 2020 - It's Overlocker Month!
Hi there. I have to say that the last two weeks have been a roller coaster ride, in fact the whole year has so far...roll on 2021.
This weekend we will be in Akaroa for our annual retreat, tucked up in the warm eating great food and stitching up a storm in the boat shed while we look out over the harbour. If this is the kind of escape that appeals to you, mark it in the diary for next year!
If you have finally decided to invest in a new overlocker, I have to tell you that now is a good time, as Bernina have designated July overlocker month with some really good savings to be made.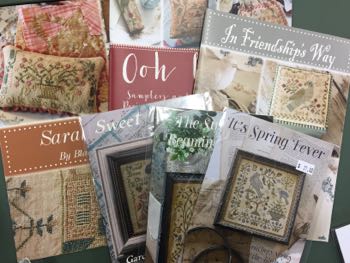 Believe it or not we have had more fabric arrive in, and we are starting to build up some good supplies with beautiful cross stitch designs, linens and threads from Dye Weeks, Thread Gatherer and Classic Colour Works are arriving all the time. Blackbird Designs is one of my favourites - check out the new books and patterns that have been added to the cross stitch section of the Annie's website.
https://www.anniesquilts.co.nz/cms/latest-products.html
Before I forget the winner of the last months $50.00 voucher from Annie's is Kate French from Christchurch.
Now...onto the recipe. It is freezing outside and I am thinking that soup is a really good idea!
Lamb shank, fennel and vegetable soup
1 tbsp olive oil
4 lamb shanks (about 1 kilo)
1 coarsely chopped brown onion
2 small fennel bulbs
2 medium carrots
4 cloves crushed garlic
2 small fresh chillies
2 tsp each of ground cumin, ground coriander
1 tsp each of cinnamon, caraway seeds
Pinch of saffron
6 c water
2 c beef stock
400 g tinned tomatoes
400 g canned chickpeas
¾ c frozen peas
Fresh coriander leaves
Heat half the oil in a large frying pan and brown the lamb shanks before placing them in a 4.5 litre slow cooker.
Heat the remaining oil and cook the fennel, carrot, garlic, and chilli until soft and then add in the spices cook until fragrant.
Add the vegetables and spices to the slow cooker with the water, beef stock, tomatoes and chickpeas and cook covered on low for 10 hours.
Remove the lamb shanks from the cooker and remove the meat from the bones. Shred the meat and return this to the crock pot adding in the peas, and seasoning to taste. Garnish with fresh coriander.