Newsletters
Annie's Ramblings 16th July 2020 - Bernina Roadshow Coming Soon!
Hi there. What a fascinating year it has been, love it or hate it Lock down, Covid 19, droughts, the ongoing political dramas and natural disasters have meant it will be a year we will never forget!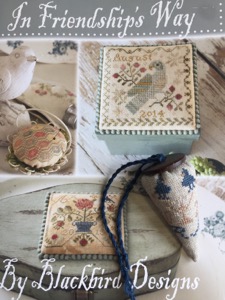 However, as Kiwi's we are programmed to see the good in every situation, and it great to see so many North Island visitors in the shop who are taking the opportunity to see the country.
As a wee memento of 2020 I made this little cross stitch strawberry the other day which could be used as a display piece, or a pin keep, or scissor fob. This is from the book "In Friendship's Way" by Blackbird Designs ($56.00) which has 11 different lovely little small projects.
https://www.anniesquilts.co.nz/cms/shop-online/product/2316-in-frienship-s-way.html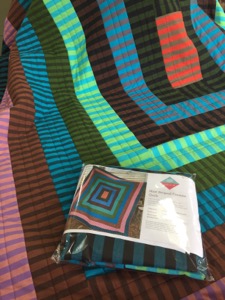 I am also just finishing the binding on this new quilt using the Kaffe Fassett's shot cotton stripes. We have this as a kit ($198.00), and there is plenty of these stripes in different width's along with the plain shot cottons available on the bolt.
The quilt measures 78" x 84" (198 x 213 cm) and would make a great quilt for a guy, for someone heading off to Uni, or to put over your favourite bed or couch.
https://www.anniesquilts.co.nz/cms/shop-online/product/2317-shot-striped-frames-quilt.html
I am also excited to tell you that coming up on Sunday the 9th of August Annie's will be hosting the Bernina Road Show which will be set up in the classroom.
This is an excellent opportunity to catch up with the experts, have a go on a long arm quilting machine, put your name in the draw to win a new sewing machine, check out the mini exhibition and get some great deals on sewing machines, overlockers and accessories.
Now...on to the recipe. This one is a simple dessert and a delicious treat.
Lemon Mascarpone Ice Cream
200 g Mascarpone
2/3 c castor sugar
Juice and zest of 1-1 ½ lemons
Beat the sugar and mascarpone until thick and well blended. Add in the lemon juice and zest and beat until well mixed. Pour into a container and freeze well. Remove from the freezer before serving as it is best eaten slightly soft.
Happy stitching,
Rachel
Annie's CQS
This email address is being protected from spambots. You need JavaScript enabled to view it.