Newsletters
Annie's Ramblings 31st July 2020 - Spring Specials!
Hi there. Isn't it great to see the spring flowers starting to pop up with the promise of warmer weather to come!
It is about this time of the year I really miss not being able to pop out to the vegetable to bring a haul of fresh home grown goodies. We are down to the last of the carrots and silverbeet. But we did share 1 ½ spears of new season asparagus the other night!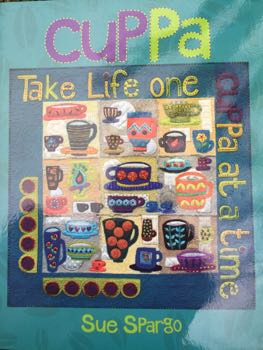 As it is almost spring cleaning time, I decided to get a bit ruthless this week and have put out a whole lot of fabric at half price along with a heap of fat quarters at buy 2 get 1 free...so be in quick for some great deals. Sorry this is an instore special...unless of course you would like to me to send you a mystery box. Go on...be brave!
However...in terms of books, I do have a good number of Sue Spargo's Cuppa book and these are going out at $30.00 each (usually $56.00) until stocks last.
Just new in is the "Handy Pocket Guide for Quilting with Pre-cuts". This is $18.50 and includes more than 25 block patterns and plenty of tips and tricks for using jelly rolls, layer cakes, charms squares, and fat quarters.
The new Australian Quilters Companion magazine has just arrived in (this may be the only contact we have with the Aussie quilters, other than on line for quite a while given the Covid situation).
In the past it has been so easy to pop over to Melbourne or Sydney for a weekend or hop over to the Sunshine Coast for a holiday or to visit family or attend a trade show that I guess we have taken it for granted a bit. Video calling and Facetime is just not the same as a hug!
Don't forget that tomorrow is Woolly Stitchers Day from 10-4. More details on the class page of the website. See you there!
This week's recipe is a tasty twist on that good old family favourite...meatballs!
Feta and Lemon Meatballs
500 g minced lamb or beef
1 tsp salt
Freshly ground black pepper
1 cup fresh breadcrumbs
1 egg
½ c fresh mint and parsley
Granted rind of a lemon
100 g diced feta cheese
Combine all the ingredients and then roll into golf ball size pieces with wet hands. Rest for 30 mins and then grill, fry or barbeque until cooked through. Serve with a tasty couscous or salad and tzatziki sauce.
Happy stitching,
Rachel
Annie's CQS
This email address is being protected from spambots. You need JavaScript enabled to view it.