Newsletters
Annie's Ramblings 26th August, 2020 - Bunnies, Borro and Broccoli!
Hi there. What a busy month it has been and it seems like we are now on a fast track to Spring with baby calves, lambs, daffodils and blossoms offering a sense of promise of better things to come.
Last weekend Annie's hosted another great class with tutor and quilt artist Griet Lombard. She is one talented lady with her quirky bunnies, birds, and nature inspired creatures that she brings to life in her quilts and journals with fabric and thread. I am pretty sure I have persuaded her to come back and teach with us again next year, so keep an eye out for more details later.
I am also excited to tell you that Griet has released a pattern for her Bunny Quilt and Journal that we now have available. It is $32.00 and available in the shop as well as on the website.
Although it can be a bit frustrating at the moment with lots of things on back order, our distributors are doing their best and there is nothing else we can do except be patient and keep sewing! I am hoping to have more elastic within the next week or so.
On the good news front, we have had delivery of some gorgeous new Liberty Tana Lawn fabrics as well as Kaffe Fassett spots and prints.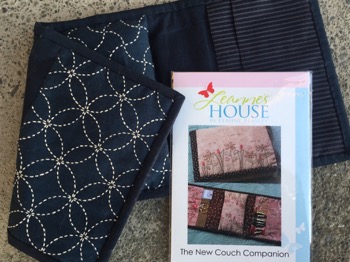 The other thing I thought I would show you is this couch companion needle keep that I have made using a Leanne's House ($23.00) pattern and some pieces of sashiko stitching. This is a very handy thing to sling over the arm of the chair while you are stitching or just to tuck your needles and threads into the pockets, pack it up and take it with you. I always thought the arm of the chair made a good pin cushion, but it doesn't work so well with a leather lounge suite!
We have lots of sashiko and boro stitching panels, threads, and supplies in store with more arriving all the time. This is a very relaxing form of stitching that never goes out of style.
Now..onto the recipe.
Broccoli and Chicken Pasta Bake
250 g pasta shapes
1 large head of steamed broccoli
200 g cooked chicken
200 g low fat cream cheese
1/3 c milk
2 c thinly sliced silverbeet
100 g Edam cheese
1 c bread crumbs
Preheat the oven to 180 C.
Add the pasta to a large pot of salted boiling water and cook for about 10 minutes.
In a bowl combine the cream cheese and milk. Add in the drained pasta, chicken and vegetables and stir well.
Pour into a large oven proof dish and top with the bread crumbs and grated cheese. Bake for 20-25 mins until golden. (Serves 4)