Newsletters
Annie's Ramblings 25th September, 2020 - More Daylight Hours for Sewing!
Hi there, another week has rolled around and I am looking forward to long warm evenings and daylight saving time. Don't forget to alter your clocks and check your smoke alarms!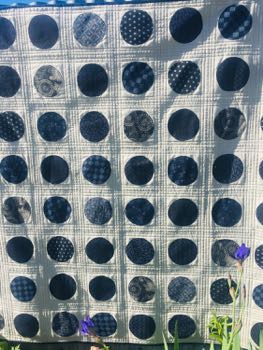 This week I thought I would show you this quilt which I have just finished using Birch hanky linen and assorted Japanese Indigo prints. This is available as a kit as pictured ($149.00) including all the fabric for the quilt top and binding, or as a pattern ($22.00). It is a pattern that you could use again and again featuring collections of your favourite fabrics....think Liberty, Kaffe, Tilda, French General or a glorious mixture of whatever that you have in your stash!
Just arrived in is another stunning book by Blackbird Designs called Sewing Club ($59.00) featuring 16 timeless cross stitch designs. You can follow Barb and Alma's blog, and keep up with their latest designs here.
http://www.blackbird-designs.com/
We also have the latest edition of Quiltmania magazine in store now which is always a good source of inspiration for your next quilt fix.
This Monday is South Canterbury Anniversary Day and also Ashburton's Mardi Gras (formerly known as Boulevard Day) and the start of the annual Bookarama. Why not combine that with a visit to Annie's and make it a perfect day out?
Coming up next weekend (Saturday 3 October) will be our Woolly Stitchers Day from 10.00-4.00. More details on the class page of the website.
Now, on to the recipe, a quick dinner in a hurry kind of recipe.
Pasta with Roasted Kumara, Ricotta and Walnuts
2 large orange kumara, peeled and cubed
Olive oil
Nutmeg
Walnuts
Fresh sage leaves (or you could use spinach)
4 cups of cooked pasta shapes
1 small tub of ricotta
Place the kumara cubes in an oven dish the oil and then grate over some nutmeg. Roast in a hot oven for about 30 minutes or until tender. Half way through the cooking time add in a handful of walnuts and some sage leaves.
Combine with the cooked pasta and ricotta, season to taste and top with freshly grated parmesan.