Newsletters
Annie's Ramblings 30th October 2020 - Sashiko, Chintz and Whisper Weft
Hi there. "Bring back summer!" I hear you cry as we have all spent the last week rugged up in our winter woollies again.
It seems like now that we have Labour weekend out of the way, November is just around the corner and then we are on the downhill sprint to Christmas...and the end to a very unusual year!
This week I thought I would show you a project that I am just finishing with some hand quilting. This features four of the Sashiko Coaster packs in different colour ways from Olympus, along with a Tsumugi charm square square pack ($59.00). Simple and effective this could be used as a wall hanging, table runner, cot quilt or you could use the idea for cushions or a bag perhaps.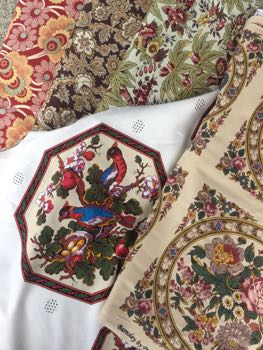 This week we also have some new Dutch Heritage fabrics arrive in. A little different to what we have seen before and based on reproduction Chintz fabrics from 1820. The medallions are also stunning...so time to get the creative thinking caps on!
https://www.anniesquilts.co.nz/cms/latest-products.html
My favourite iron on woven stabiliser "whisper weft" is back in stock again thankfully. I think the supplier was just a little taken aback when I ordered 100 metres, but it is an extremely good product for adding stability without bulk for appliques and stitcheries. It is iron on, soft, easy to stitch through and also stops you seeing the carry over threads at the back of your work. It is 150 cm wide and just $14.50 per metre.
Just a reminder that Woolly Stitcher's Day is on tomorrow. More details on the website.
Now...on to the recipe, a good hearty salad to make the most of pumpkin before it disappears until next season, although I think orange kumara would work really well too.
Pumpkin and Feta Salad
1 kg pumpkin, peel and chopped into 1 cm cubes
1 tsp ground cumin
2-3 tbsp olive oil
2 red capsicums
1 small red onion
70 g fresh spinach
200 g diced feta
For the dressing:
1/2 c liquid honey
pinch of cinnamon
¼ cup balsamic vinegar
¾ c olive oil
Salt and pepper to taste
Whisk together the ingredients for the dressing and set aside.
Preheat the oven to 190C and roast the pumpkin in olive oil until tender and then cool.
Slice the rest of the salad ingredients and then combine in a large bowl with the dressing.