Newsletters
Annies Newsletter 12th November 2020 - The Handstitchers Retreat 2021
Hi there,
I have some exciting news to tell you this week about the "Hand stitching Retreat" that Annie's is hosting together with the Alpine Lodge at St Arnaud in the Nelson Lakes National Park.
The dates to mark on your calendar are 9-11 April 2021. A chance to enjoy some amazing scenery, great food, excellent company and some stitching time amongst friends. More details are on the class page of the website, but if you are keen to join us, make sure you book early as places will be limited.
https://www.anniesquilts.co.nz/cms/images/classes/Rotoiti.pdf
New in the shop this week we have felt Christmas Stocking kits, kids cross stitch designs, New Zealand cross stitch book mark kits (great for sending overseas), and more of the felted wool pressing mats which are absolutely brilliant. DMC bobbin cards are back in stock, and there are some new books and patterns. More details on those next week.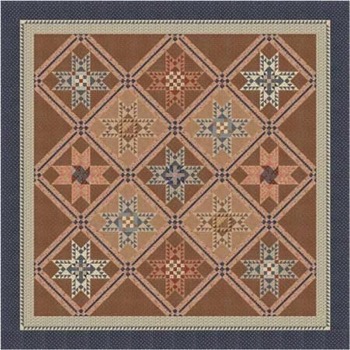 I also have a new quilt to show you, another of my lock down projects that has just been quilted beautifully by Ali B. This is a large one at 94" x 94" called "Reflections" by Jo Morton. Available as a kit ($359.00), it includes all the fabric, patterns and pre-printed foundation piecing papers.
https://www.anniesquilts.co.nz/cms/shop-online/product/2348-reflections.html
This week's recipe is a delicious dessert that is great with a dollop of cream of ice cream. There is plenty of rhubarb around at the moment, and I used frozen strawberries instead of fresh. My top tip would be to cook it in a meat dish rather than a flat tray unless you want another job cleaning the juices off the bottom of your oven!
Strawberry and Rhubarb Galette (serves 6-8)
200 g chilled butter
2 c flour
120 g sour cream
1 bunch of rhubarb
500 g strawberries
2 tbsp custard powder
¾ c caster sugar
Finely grated zest of a lemon
1 tsp good quality vanilla
1 egg yolk
50 g slivered almonds
Icing sugar to dust
Place the butter and flour in the food processor with a pinch of salt and pulse to combine. Add the sour cream and pulse until the mixture comes together to form a ball. Wrap in plastic wrap and chill for 30 minutes. Preheat the oven to 180C.
Meanwhile chop the rhubarb into 4 cm pieces and combine with the strawberries, sugar, custard powder, vanilla and lemon zest. Set aside.
Roll out the pastry on a large piece of baking paper to form a 35 cm circle. Transfer this to the baking tray. Place the fruit mixture in the centre of the dough leaving a 6 cm border. Fold over the edges of the dough to form a 3 cm crust around the fruit.
Brush the crust with the beaten egg yolk and then scatter with the almonds. Bake for 45-60 minutes or until golden.
Before I forget, the winner of the $50.00 voucher from Annie's for October is R Collins from Red Swamp Road in Kaikoura.
I hope you have a fabulous long weekend. We will be open all Friday, Saturday and Sunday and will look forward to seeing you if you are out and about.
Happy stitching,
Rachel