Newsletters
Annie's Ramblings 11th November 2020 - Naughty or Nice?
Hi there. Well....it is getting pretty close to having to decide whether you are naughty or nice. I think it is entirely possible to be both! Perhaps a little naughty in terms of buying something special for yourself, or maybe treating yourself to a day off? Being nice by taking some baking or fresh vegetables to an elderly friend or relative that you haven't seen in a while.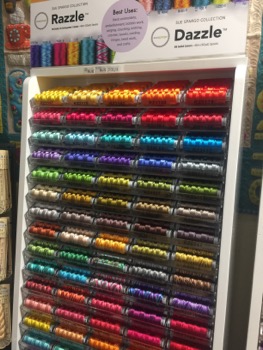 We have had a number of parcels in this week including our new stand for the Wonderfil Razzle and Dazzle Threads. These are great embellishing threads and add a bit of pizazz to your Sue Spargo or Wendy Williams type of embroidery.
These threads will be added to our website in the New Year, as over Christmas our web designers will be busy giving our website a bit of a make-over. In the meantime, if you know what you need or you would like us to choose for you, just give us a call.
We have finally received the quilting ideas books that we have been waiting ages for - Borders, Block Designs and Allover Patterns. These are spiral bound and are $28.00 each.
We have also received a very comprehensive new book featuring ruler work quilting for domestic and long arm machines. "Rulerwork
Quilting – Idea Book by Amanda Murphy is $39.90. We have the Bernina Quilting Ruler sets and the Bernina Ruler Foot in stock and these are 20% off along with all other Bernina and Bernette accessories as part of the Christmas sale. (*Excludes bobbins, bobbin cases and needles.)
The "Santa the Tree, The Turkey and Me" block of the month from Anni Downs continues to be very popular and we have just received some more patterns and wool packs for Block 1, so it is not too late to join in the program if you wish. More details on the website.
Need a Christmas present for yourself? We have machines and overlockers in stock, loads of fabric, threads, kits, patterns and of course gift vouchers.
This week's recipe is a good Christmas treat to share with friends and besides, anything with cream cheese and chocolate has goto be good right?
Chocolate Fruity Truffles
½ c raisins
60 g of dried prunes or figs
2 tbsp brandy or rum
250 g cream cheese
60 g chopped walnuts
125 g dark chocolate
¼ c icing sugar
¼ c coconut
Soak the dried fruit in the brandy for at least 15 mins (or overnight). Soften the cream cheese and mix in the fruit and nuts. Melt the chocolate in a bowl over hot water. Mix in the icing sugar and then combine with the cream cheese and fruit. Chill and then roll into small ball and roll in coconut. (Keep them in the fridge in a container with a tight fitting lid, so it is not so easy just to pop one in your mouth each time you walk past!)
Happy stitching
Rachel