Newsletters
Annie's Ramblings 22nd January 2021 - A Fine Tradition
Hi there. I hope you are all making the most of summer, even though it seems a little strange with lots of thunder storms and snow on the hills with the forecast of super-hot days next week!
Just arrived in this week is this beautiful book called "A Fine Tradition" by Margaret Light. This is a must have for anyone keen on traditional embroidery and crewel work with 14 different projects and instructions featured in the book. Available now it is $59.90.
https://www.anniesquilts.co.nz/cms/shop-online/product/2465-a-fine-tradition.html
Speaking of needlework and I am pleased to be able to tell you that we now have the Sue Spargo range of Razzle and Dazzle threads from Wonderfil now in stock. These shiny, plain, variegated and metallic threads add a little pizazz to your stitching. They are all listed on the website, and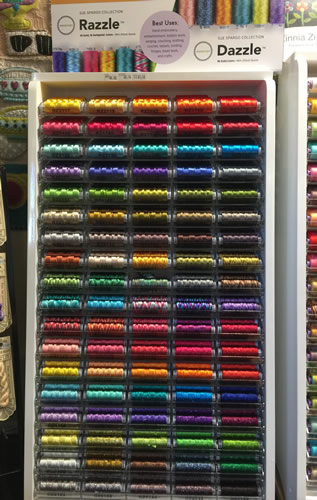 if you know the colour or number of the thread you are after you can put this into the search and it should pop up...or you can look through them all and choose one of each!
In terms of new fabrics, we have just received some more Dr Seuss fabrics as well as lots more cross stitch linens.
I am just working on some class samples and block of the month quilts at the moment, so there aren't a lot of small projects to show for my time at the moment...maybe next week!
Don't forget our first Woolly Stitcher's Day on Saturday 30th January. (More details on the website).
This week's recipe is a tasty recipe with lots of flavour.
Thai Beef with Coconut Rice (serves 6)
500 g lean beef such as rump or topside very thinly sliced
100 ml peanut oil (for frying)
50 ml sesame oil
12 shallots or small onions
6 cloves garlic
½ c raw sugar
½ c mint leaves
½ coriander leaves
150 ml soya sauce
7 limes
Crushed peanuts to garnish
Fry the shallots and garlic in the peanut oil until crispy and set them aside to drain on absorbent paper.
Finely chop the mint and coriander and place the beef and all the other ingredients in a bowl, mix together and place in the fridge for up to 2 hours.
Drain the meat reserving the liquid, and in a very hot pan, fry the beef quickly in small batches being careful not to overcook. Place the meat back in the marinating liquid.
For the coconut rice – place 2 cups of washed Jasmine rice in a saucepan or rice cooker with 1 ½ cups of water, 1 ½ cups of coconut cream and 1 tsp of tumeric. When cooked, fluff up the rice and stir in the juice of two more limes.
To serve place a mound of rice in the centre of the plate and then spoon the beef and juices on top finishing off with the crispy shallots and garlic and some crushed peanuts.
Have a great week,
Happy stitching.
Rachel
Annie's Country Quilt Store
www.anniesquilts.co.nz